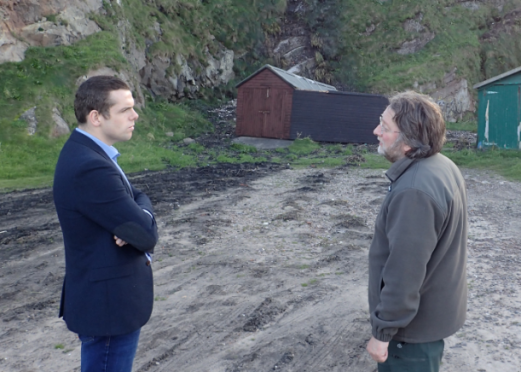 Moray's MP has backed a call for action to protect homes left teetering on a cliff-edge following recent landslips.
Douglas Ross visited Portknockie to speak with worried residents and to witness firsthand the scale of the problems caused by heavy rain last month.
Residents believe blocked drains could have caused the surge that poured through streets, before surging down hills towards the harbour.
They described the flooding as the worst to strike Portknockie in 60 years.
The ensuing landslips caused ground to give way at the back of some homes, leaving them perched next to a steep drop.
Last week, a group of villagers banded together, concerned their homes could be in danger should landslips occur again in similar conditions.
Mr Ross has now backed their crusade to ensure that measures are taken to safeguard the affected homes.
The Tory politician said: "The weather was perfect when we visited, but I can only imagine what it was like on the day this happened.
"It is very clear to me that the drains and flood management resources that protect the community should be carefully assessed in the light of this event.
"I have been in contact with Moray Council about this, and am keen to continue working with local councillors and residents as we seek to progress this issue."
Hill Street resident, Rob Barsby, described to Mr Ross the fraught scenes as he scooped bucketfuls of water from his home during last month's downpour.
He said: "Like other residents, I was concerned by the lack of maintenance to our drainage system, with many drains appearing to be completely blocked."
Keith and Cullen councillor, Donald Gatt, added: "I have been in close contact with the relevant officers at Moray Council to ensure the necessary remedial work is carried out, but we also need to plan for future events.
"We live in an age of extreme weather events and need to take a precautionary approach."
A Moray Council spokeswoman last night assured residents studies were under way to determine the best way forward.
She said: "We are continuing to investigate the impact of the landslips, and assess our options for stabilising the affected land.
"Once we have concluded our investigations, we will contact affected property owners."