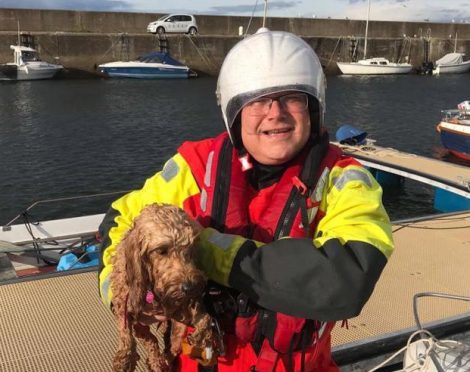 A dog that was being swept out to sea off the Moray coast was plucked to safety yesterday.
A coastguard helicopter from Inverness was pulled from a training exercise at the time to search for the struggling Cockapoo yesterday morning.
The alert was raised by a member of the public shortly before 11am after the pet was unable to get back to the shore near Cummingston.
Crews from the Moray Inshore Rescue Organisation in Findhorn braved strong winds to save the frightened pooch from drowning.
The helicopter crew quickly found the animal using their specialist equipment and were able to guide the boat to its location. Rescuers then scooped the exhausted pet to safety about 55 yards from the Moray coast before wrapping it in a blanket.
Following the emergency, it was revealed the pet "nearly drowned" during the incident.
The team then returned the beloved animal to its relieved owners at the quayside at Hopeman.
Last night, the coastguard revealed the dog was "doing well", following the ordeal. Meanwhile, a reminder has been issued to never follow animals into the water in an attempt to rescue them.
A coastguard spokesman said: "We received a call at 10.45am from a member of the public that the Cockapoo was being swept out to sea.
"The UK Coastguard helicopter, which was training in the area at the time, was quickly able to locate the animal and alert the Moray inshore rescue boat based at Findhorn to its location.
"They pulled the dog onto the boat and returned it to its owners who were waiting on shore with the Burghead Coastguard rescue team."
Anyone who spots an animal in the water should dial 999 and wait for the Coastguard to arrive.