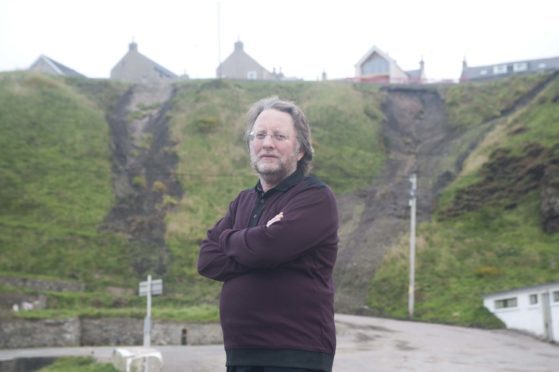 The price tag for repairing landslips that cut off a Moray village from its harbour could stretch to more than £2million.
Cliff-top roads in Portknockie were left undermined, with homes left perched on the edge of a precipice, after water surged through the community.
Mud and stone tumbled down the banks on the coast with the torrents leading to roads and paths being blocked.
Now Moray Council could approve works to repair the damage after specialists identified 22 slips that could be at risk of collapsing again.
Yesterday, warnings were issued that doing nothing could lead to "catastrophic" consequences for the village.
Council officers have recommended tearing up its capital budget, which was only agreed in February and is intended for large-scale projects, in order to find the money.
Last night, Rob Barsby, chairman of Portknockie's flood action group which was formed following the landslips, explained waiting for a plan to fix the damage had been "frustrating".
He said: "The roadways have been left completely undermined all this time. Obviously, the longer it's left like that the bigger the risk of something catastrophic happening.
"It's been very frustrating waiting for something to happen, things have been moving slowly.
"I realise it's not like Gardenstown where people can't get to their homes but there's no telling what another rainfall would do.
"It's a complex situation though so the most important thing is we get the right solution."
At the time, locals described the floods as the worst to hit the village for 60 years. Harbour Road was blocked, cutting off access to the harbour, before council staff cleared the rubble the same day.
Four options will be presented to councillors this week – ranging from making no repairs to a £2million plan that will tackle all areas.
Council experts have recommended spending £1.7million on a tailored design to "high and medium risk" locations that will also involve installing soil nails to strengthen the ground.
No repairs have been recommended to the coastal path between the village and Cullen, which is currently sealed off. It is understood that separate proposals are being drawn up for the popular walking and cycling trail.
In a report, Debbie Halliday, the council's acting consultancy manager, warned approving no works would risk "significant reputational damage" to the authority while coming with an expected £800,000 bill to compulsory purchase six homes if they were cut off by a further landslip on Harbour Road.
Meanwhile, warnings have been issued that loan charges to cover the £1.7million recommended repairs would cost about £100,000 per year.
Mrs Halliday added: "In order to reduce the budget pressure, the capital programme will be reviewed with a view to further reducing expenditure in 2018/19.
"As the plan was developed under the Make Do and Mend approach, this will be challenging, but capital expenditure is frequently subject to slippage and the timing of works included in the programme will be reviewed."
Moray MP Douglas Ross added: "It is very clear to me that the drains and flood management resources that protect the community should be carefully assessed in the light of this event."
The landslips will be considered by councillors at a full council meeting on Wednesday.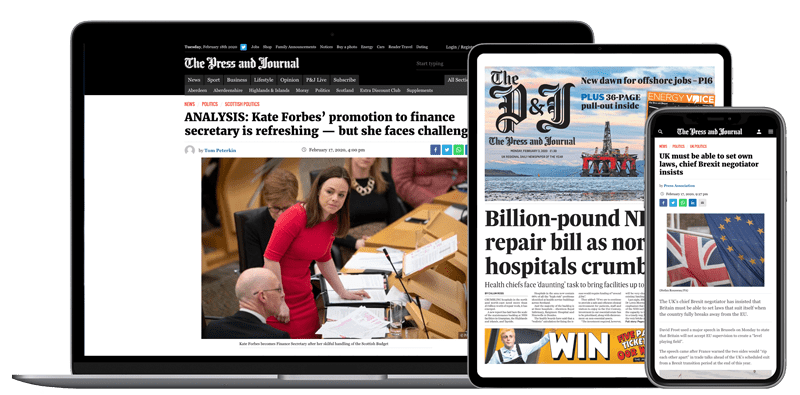 Help support quality local journalism … become a digital subscriber to The Press and Journal
For as little as £5.99 a month you can access all of our content, including Premium articles.
Subscribe