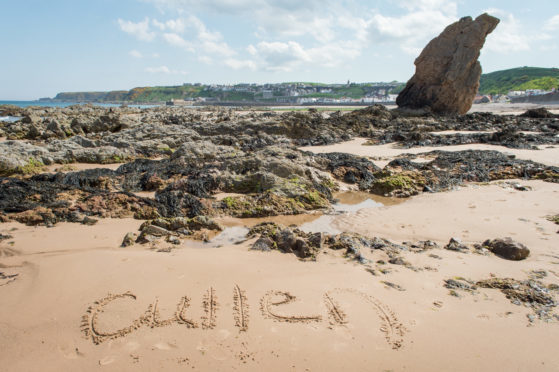 Two towns on the Moray Firth coast have been named amongst the UK's top beach holiday destinations.
Cullen has been ranked as the best place in Scotland to soak up sun on the sand – behind only East Devon in the whole of Great Britain.
Meanwhile, Broadford on the Isle of Skye and Nairn have also been ranked as some of the best places to escape to the seaside in the country.
Travel website Holiday Lettings has compiled the chart based on reviews of tourists who have stayed in accommodation there.
Cullen is praised for being home to "sandy beaches, great golfing and plenty of scenic walks" while being a "pretty" fishing community.
Travel writers have also praised the idyllic location, which is home to the world famous Cullen Skink, for being a haven of natural wildlife and sealife for visitors from cities to discover.
Holiday Lettings' review says: "The town and bay are also overlooked by the striking Cullen railway viaducts. Active types can bike the Moray Coast Cycle Route, while wildlife enthusiasts can spot seals, puffins and dolphins from the shore.
"Naturally, the best beach holidays come with some tasty local grub."
Broadford won praise for being an ideal starting point to explore Skye while providing a range of speciality shops close to the shoreline.
Nairn's flat and sandy beach was hailed as being "perfect" for building sandcastles while offering "awe-inspiring" views of the Moray Firth while close to golf courses.
Laurie Piper, operations manager for Moray Speyside Tourism, described Cullen's accolade as "well deserved".
He said: "It's not before time that the beauty and attraction of the town as a coastal resort is recognised.
"I think everything comes together there to make it ideal. Whether it's the landscape, the beach or the viaduct. It all comes together in that sheltered cove to make something very special."
Dennis Paterson, a member of Cullen Community Council, added: "It's definitely good for the town to be recognised. There's always something going on. It will do the community no harm at all."