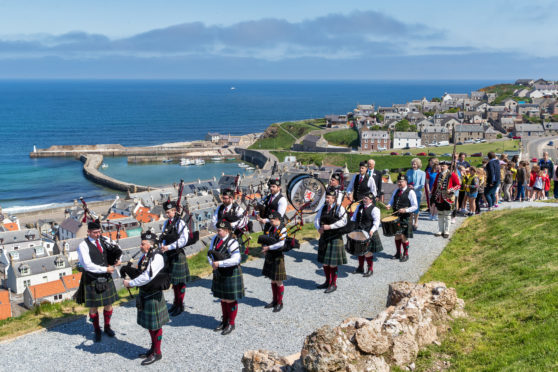 A two-year project to transform a neglected peak on the north-east coast into a thriving beauty spot has been completed.
Volunteers have spent countless hours hacking away tonnes of gorse and vegetation to create a network of paths on Castle Hill in Cullen.
Yesterday, Portsoy Pipe Band led a procession of about 250 people from the town to the summit to mark the culmination of the £16,000 initiative.
The crowd encircled the peak to watch the Lord Lieutenant of Banffshire, Clare Russell, hoist a flag depicting the ancient coat of arms of the royal burgh to bring the project to fruition.
Project to create network of paths to Moray beauty spot nears completion
A message from Her Majesty the Queen was also read – sending her "warm wishes" to everyone who was involved in the transformation.
Volunteer Dennis Paterson explained the two-year venture was inspired by his discovery that the stunning panoramic views from the top of the hill were almost inaccessible.
He said: "My children are in their 50s now and they used to play up there, but it seemed to have been forgotten about over time.
"I tried to get up in January 2016 to take some photos and I actually had to crawl up from the railway side.
"A few of us decided to clear some routes through to open it up and then person after person started going up and sharing pictures from the top. It was really remarkable."
Hundreds of people trooped to the summit yesterday before taking part in battle re-enactments in the fields below.
The site was a rallying point for the Duke of Cumberland's army before they marched to victory at Culloden. A wooden fort once stood at the peak of Castle Hill with farms and tradesmen working below.
Recreations of typical leather working, weapon cleaning and weaving techniques from the period were demonstrated to the attendees.
Mrs Russell said: "The work that everyone has done on the hill has been absolutely amazing. It's going to be so good for Cullen. It's good to see the community has come together to make it happen.
"I imagine it will probably be well used by tourists too. Cullen is in such a naturally beautiful location and I'm sure drivers on the North East 250 route will stop to enjoy the view."