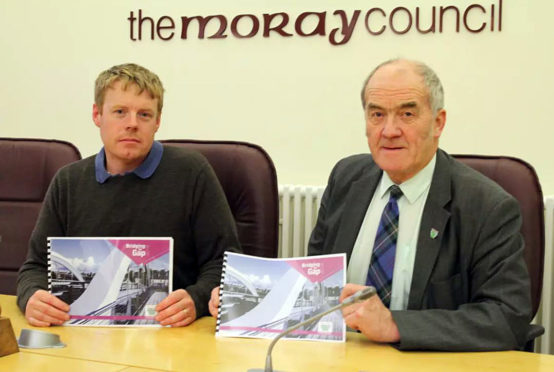 The Conservatives have thrown down the gauntlet and urged anyone interested in preserving Moray Council's ruling administration to come to a crunch meeting at 10am today.
Following last year's election, the Tories formed an alliance with six independents to run the council.
However, eight of the nine-strong Conservative group stepped down nearly a fortnight ago in a row over job adverts for senior posts.
Row over job ads threatens to break apart Moray Council administration
The opposition SNP group, which has the most councillors with nine, is waiting in the wings to take over as a minority administration – with a special meeting set for Wednesday.
Now Conservative group leader Tim Eagle has e-mailed every councillor in Moray who is not in the SNP, seeking talks to break the deadlock and prevent the Nationalists from assuming power.
The e-mail – addressed to "friends" – reads: "I would like to offer one final opportunity for us all to come together to try to find common ground in which to build a new administration.
"I continue to believe in the priorities the last administration set and would intend to continue to work towards them but with an increasing focus on medium to long term planning.
"I realise that many of you will need time to consider this and so it cannot be rushed. With this in mind on Monday morning at 10am I am asking that any individual interested in discussing a way forward come to the Conservative group room."
Last night, the SNP described the move as "ludicrous" and confirmed they still intend to seize control.
The Tory-independent coalition splintered at the end of last month, with the opposing sides unable to find common ground in a row about recruitment ads for department director positions, both commanding salaries of more than £90,000.
Last week, the SNP group was poised to assume the reins of the chaos-hit council, but were thwarted when convener James Allan rejected their motion and said it would be better to hold off on a decision until this week.
Just hours after that meeting, the five independent councillors including council leader, George Alexander, and remaining Conservative, Mr Allan, announced they were stepping down from the administration.
The row comes in the midst of efforts to identify up to £14million worth of savings over the next two years to prevent the council being plunged into bankruptcy.
It is understood that Mr Eagle's e-mail was sent to his former independent colleagues and the Moray Alliance Group – which is comprised of sole Labour councillor John Divers and independents Ryan Edwards, Walter Wilson and Derek Ross.
Last night Mr Eagle said he had "no idea" what the response to his rallying call would be – and admitted there were no guarantees it would stop the SNP from seizing power of the chambers.
He said: "I have no idea what the response, if any, will be too this and it certainly does not mean a majority group will form. What it does allow for is a final chat on not just the possibility of a group forming but how we can all be constructive if we find ourselves in opposition."
SNP group leader Graham Leadbitter said it was still his group's intention to lead the council.
He said: "We have talked with other councillors around the issues and it is our intention to form a minority administration.
"It has now been two weeks since the Tories walked out of the administration. The idea that the same group that walked away to then form an administration with the people they threw under the bus is frankly ludicrous."