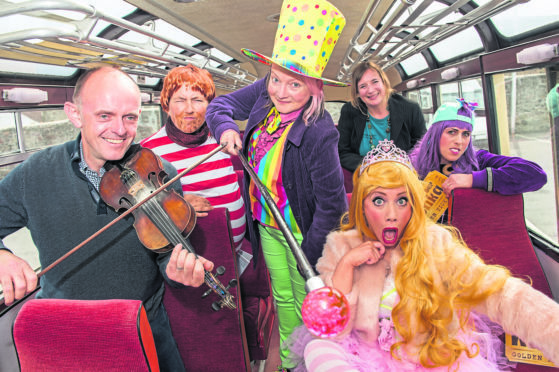 A world premiere stage production of a 15th Century Scots poem will be one of the main attractions at a Moray arts extravaganza.
A theatrical version of The Buke of the Howlat, which was written in the late 1440s by Richard Holland, who was chaplain to the Earl of Moray, will be staged amongst the shrubbery at Brodie Castle for the Findhorn Bay Festival.
The biennial six-day event featuring theatre, music, dance and exhibitions will begin in September and will take place in unusual and scenic locations across the region.
Yesterday, organisers launched the programme for the extravaganza, which attracted about 7,500 visitors when it was last held two years ago.
Tourism bosses believe the event has now become a "cornerstone" of the region's cultural offering.
Festival director Kresanna Aigner said: "We've got a line-up of award-winning, renowned artists from across Scotland and local artists from Moray too. The programme aims to offer something for all tastes and ages in locations around the stunning Findhorn Bay and Moray coastline."
The Buke of the Howlat, which tells the story of a young owl who asks a peacock for help to become beautiful, has attracted fresh attention since it was released as a book two years ago.
Award-winning fiddle musician Duncan Chisholm will open the festival on September 26 with a concert at St Laurence Church in Forres.
Folk singer Karine Polwart will perform her only Scottish date during the event with other musical attractions including Scottish Opera.
Guided walks will be run along the coastline to spot some of the region's feathered residents.
Meanwhile, Culture Day in Forres will return for the fifth year with exhibitions and performances across the town.
A new addition to the line-up is a focus on Making More of Moray – which will celebrate local produce with pop-up cafes due to be serve delicacies.
Paul Bush, Visit Scotland's director of events, said: "Findhorn Bay Festival is a fantastic celebration of Scotland's arts and culture and regional heritage, it has been great to see this event continue to develop and grow."
Laurie Piper, operations manager of Moray Speyside Tourism, said: "The festival has established itself as a cornerstone of the region's cultural calendar."
The festival runs from September 26 to October 1. The programme can be viewed online at www.findhornbayfestival.com