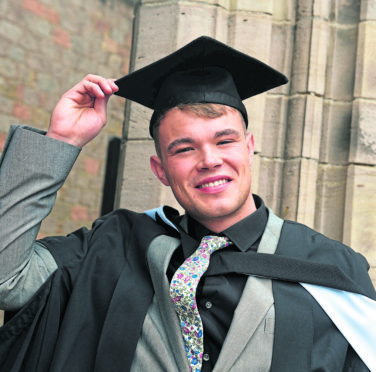 For one sociology student at Aberdeen University, graduating proved a particularly arduous achievement.
Ross Howarth, from Rothes, was the first in his family to complete a university degree, although even he admitted he had doubts whether he would ever finish his course.
He said: "The amount of time we had to write the dissertation meant that it felt quite stressful experience. I left it to the last minute, and suddenly the deadline was closer than I'd realised. But I managed to get it done."
Mr Howarth graduated with an MA in Sociology, and was joined by his parents, sister and aunt to celebrate the achievement.
His aunt, Diane, said: "I am so proud of him and I knew he would make it to the end. I was a little bit worried when he was leaving things to the last minute, but he did really well and we were very emotional during the ceremony."
The 22-year-old described attending Aberdeen University as being "one of the best choices I've ever made."
He added: "It has been fantastic. I was initially thinking of picking Edinburgh, but I decided upon Aberdeen because it was closer to home."
Mr Howarth currently works as a guide at Speyside Cooperage Visitor Centre in Banffshire and will continue to do so until he has decided on the next step of his career.