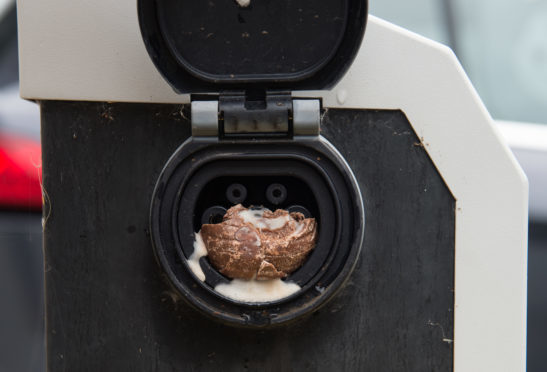 A Speyside electric car charge point has been out of action for almost three months after vandals damaged the equipment armed with Creme Eggs.
The chocolate snacks have been rammed into the plugs in Aberlour that are used to hook up power cables from vehicles needing electricity.
Motorists dependent on using the new technology to keep their cars on the road are now having to drive to Tomintoul, Grantown or Elgin to use other charge points.
Yesterday the unit in the village remained out of commission despite the fault being reported in the run-up to Easter.
Moray Council has valued the cost of repairs needed to get the ports working again at £800 and has reported the damage to contractors ChargePlace Scotland.
Businesswoman Jennifer Robertson, who is managing partner of Spey communications agency in Aberlour, bought an electric car specifically to take advantage of the charge point at the Speyside Visitor Centre – which is just yards from her office.
She said: "I contacted ChargePlace Scotland in April after I discovered the top of the charge point had been vandalised with Creme Eggs stuffed inside.
"Not only is that a total waste of Creme Eggs but it is ridiculous that it still hasn't been fixed.
"If we are to encourage more drivers to go electric then we really need a better level of service."
Moray was criticised for being in the slow lane with the uptake of electric vehicles in September last year after figures revealed the charger at Station House in Aberlour was used only once in a 16-month spell from 2015 to 2016.
However, statistics revealed in the Press and Journal yesterday showed the amount of vehicles capable of using the technology in the region had nearly doubled from March 2017 to this year.
A Moray Council spokeswoman explained the damage had been reported to its contractors.
She said: "An act of vandalism has caused £800 of damage to the electric vehicle charging station in Aberlour.
"We are in discussion with our contractor to have this repaired and brought into service as soon as possible."