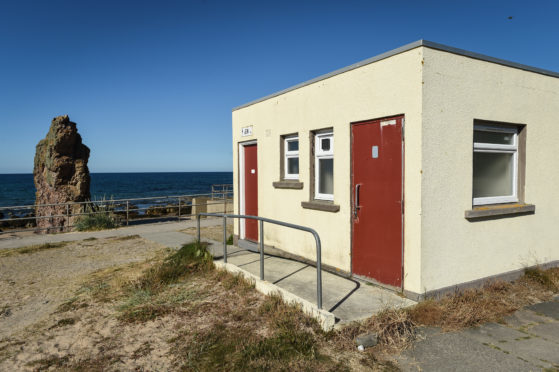 It's not the way to leave tourists feeling flushed with success.
But the public conveniences have been closed next to one of Scotland's most picturesque beaches despite the current spell of sunny weather which has seen people flock to the seaside.
The number of available facilities both in the village of Cullen and the nearby beach has fallen to the stage where there is just one at the harbour for the local fishing fleet.
The others were shut over the weekend, but the loss of Cullen beach toilet is the greatest concern as the natural attraction runs the risk of being spoilt.
With the summer season in full swing, local attractions are attempting to capture as much tourism as possible, but believe the lack of toilets could put some people off.
Cullen resident Andrew Castles said: "My concerns are that individuals could soil the beach with no provision of toilets.
He added: "The area is littered with dog waste bins but there is nothing for human waste – it is silly when you think about it when we just want somewhere to have a pee."
Some local leisure services were forced to pick up the slack, so instead of enjoying a boom weekend, found themselves facing a different issue.
On Sunday, around 70 people entered the nearby Cullen Links Golf Club with at least a further 24 using them yesterday – purely to use the toilets.
Club captain Andrew Murray said it "will put people off for sure" adding "first and foremost, we would never want to appear unwelcoming, but when you have 100 people through the door without spending a penny – that is very difficult."
He added: "We will never turn somebody away, but to get to the toilets people have to pass through the dining room with sandy feet and that is not pleasant for either party."
Councillor Ronald Shepherd – who is against the closures – pointed out that Moray Council did not choose which toilets to close.
He said: "The decision was taken by the local community council to keep the harbour toilets. But yes, it will be bad for the area."
Former council leader George Alexander, who oversaw the budget cuts that led to the closures, said: "It's not something we wanted to do but, given the financial position the council was and still is in, we had to make unpopular choices."
The authority is aiming to save around £6 million to stave off bankruptcy.