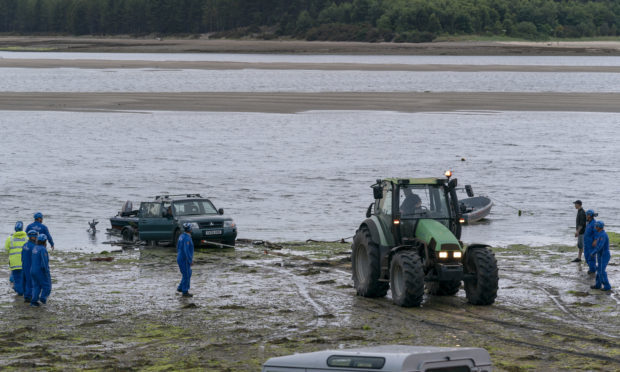 A farmer had to be drafted in to rescue a Moray man whose car was minutes away from being swept into the North Sea.
He had been making the most of Sunday evening's scorching temperatures by taking his boat out in Findhorn Bay.
But he ran into problems at the end of his jaunt when he moved his 4×4 vehicle down onto the beach to tow away his vessel just before 9pm.
As the tide rolled in rapidly, the wheels on the man's green Mitsubishi Shogun started to sink into the seaweed-speckled mud and sand.
And soon afterwards, the Moray Inshore Rescue Organisation (Miro) and police officers were on the scene ready to help out.
Yet their efforts, which involved using another 4×4 to free the stuck car, were fruitless.
Simon Paterson from Miro said: "We were called out to provide safety cover and keep an eye on things as well as to watch out for any pollution risks.
"But as soon as the wheels began to spin that was it, he was snookered."
It was not until word of the situation was communicated to a local farmer that the vehicles were saved from the rapidly encroaching waters.
After being told of the situation by a passer-by knocking at his door, Ed Bichen raced to the scene with his tractor and pulled the vehicle to safety.
He said: "He was well stuck. The tractor is fairly powerful, so while I didn't think it wasn't going to come out, he was more stuck than I thought he was going to be."
He added: "I think if somebody hadn't helped him out, he would have lost the vehicle.
"He must have been getting a bit concerned as it would have been totally flooded, a write-off."
Despite the peculiar nature of the call-out, Mr Bichen revealed such incidents were not as uncommon as some might expect.
He added: "Quite often, there's someone stuck in the sand dunes, so it is no big deal."