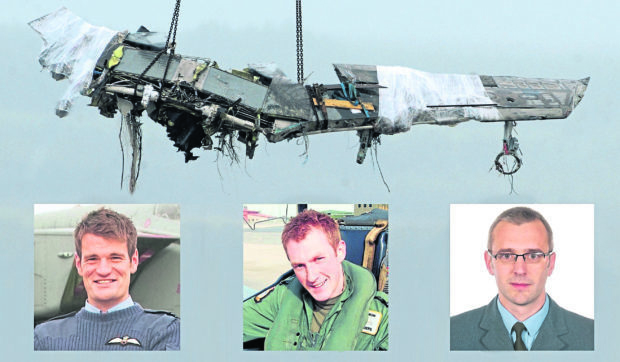 Six years ago a tragic mid-air crash in the north-east claimed the lives of three Moray airmen.
Squadron Leader Sam Bailey, Flight Lieutenant Hywel Poole and Flight Lieutenant Adam Sanders all died above the Moray Firth, on the Caithness coast.
The collision on July 4, 2012, between two GR4 Tornado jets on separate training missions, 920ft in the air, also seriously injured Squadron Leader Paul Evans.
Though time has passed, the airmen are not forgotten and their legacy has been improved safety for the airmen who have followed them.
And there may still be further investigation into the cause of the accident.
The Ministry of Defence has since admitted liability for the crash after a Military Aviation Authority report identified 17 factors that led to the incident.
The Crown Office is, however, currently considering holding a fatal accident inquiry after persistent campaigns by the families of the four pilots involved.
Moray MP Douglas Ross said: "Six years have now passed since the tragic air to air collision and it is right that we remember those who sadly lost their lives whilst serving in our armed forces and at the same that we work hard to ensure that such a tragedy does not happen again.
"I am told that the enhanced collision awareness system being fitted to Typhoons provides both audio and visual alerts providing a greater situational awareness to the pilot and highlight the location of any potential risk of collision.
"I welcome the assurance from the MOD that the design methodology has ensured the ECAS system being implemented is stage one of a process to continually develop and update integrated elements of the existing aircraft warning system.
"It is sad that such lessons have had to be learnt from the tragic accident which cost the lives of three airmen and left another seriously injured.
"I will continue to press the UK Government and defence staff to ensure that our pilots flying both at home and in missions overseas are as safe as they can possibly be."
Councillor for Heldon and Laich, John Cowe said: "An occasion like this should be marked.
"It was a great tragedy and we're in the hundredth year of the RAF but these things are always in everyone's minds.
"My condolences go to everyone affected.
"They've such a dangerous job up there that your thoughts are with them all the time."
An RAF spokesman said: "Our thoughts remain with the families of Sqn Ldr Sam Bailey, Flight Lieutenant Hywel Poole and Flight Lieutenant Adam Sanders.
"While accidents like this are thankfully very rare, this event reinforces that military flying can never be without risk.
"The RAF has implemented a variety of lessons from this tragic accident including fitting of a traffic alert and collision avoidance system to Tornado aircraft."