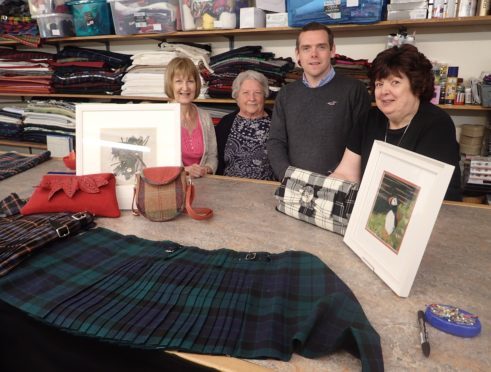 Moray designers are being urged to get involved with a local kilt school's competition to design a textile accessory such as a handbag or a headpiece.
The Keith Kilt School and Textile Centre is challenging locals to make the item from only material woven in Scotland.
This can be in the form of jewellery, cushions or even stools, as long as it reflects the Spirit of Scotland.
The competition has been created to celebrate the 13th anniversary of the centre's existence.
Linda Gorn, voluntary chairwoman of the organisation, explained that the item can also be enhanced with beads, embroidery and other surface embellishments.
She said: "The competition closes at the end of August and we want to hear from as many designers as possible and would like them to be as creative as they can imagine.
"There is a wealth of talent in our area and I think it is really important that we do our best to promote it, which is why I am running the competition."
Moray MP Douglas Ross will be a judge for the competition and is looking forward to it.
He said: "I'm not sure how I'll fare with my limited knowledge of textiles, which doesn't go much beyond sportswear and suits for the office.
"But I'm looking forward to taking part and I'm sure the fellow judges will keep me right, and that the standard of entries will be very high."
For more information on how to enter the competition, go to:
http://www.kiltsandtextiles.org/creative-textile-competition