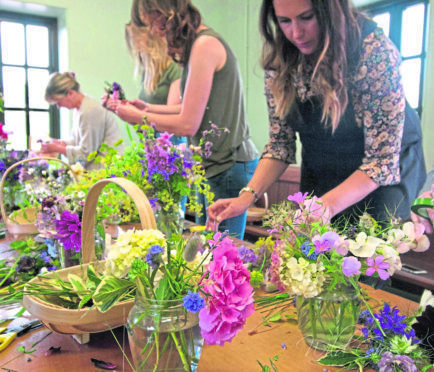 A Speyside visitor attraction has urged Scottish florists to buy local buds amid fears there could be a shortage after Brexit.
It is estimated that the UK spends about £2billion on cut flowers every year.
However, about 70% of the products sold are imported from the Netherlands.
British producers have banded together as part of a collective, christened Flowers from the Farm, in order to highlight the ranges grown in this country.
Attracting members north of the border has proved a struggle though with only seven growers north of Aberdeen signing up since 2011.
Now Gordon Castle in Fochabers, which grows more than 50 varieties of cut flowers, has launched a campaign to highlight Scottish firms – branded Flowers for the Future.
Owner Zara Gordon Lennox said: "The most important thing is that we join forces and all work together.
"If florists and event organisers realise that there is a viable alternative then even small regular orders will make a difference to start the change to a more sustainable industry."
Regular meetings and workshops are being planned as part of the campaign to challenge the preconception that Scottish flowers are not as "perfect" as those grown in the Netherlands.
Because flowers are not eaten, they are not regulated to the same extent as importing food and drink.
Concerns have been raised about pollution, habitat loss and declining numbers of wildlife in countries where a large amount of flowers are grown.
Julia Kirk, from Inverness-based florist Wild Gorse Studio, said: "We have always been passionate about seasonality in our work and we are trying hard to focus more and more on using Scottish grown flowers wherever possible.
"The future of flower imports is uncertain at the minute anyway, but for us, locally grown cut flowers offer us an aesthetic that is truly inspiring, evocative and honestly represents where we live and work."
A Facebook group has been established to support the campaign, which can be found by searching for Flowers for the Future.