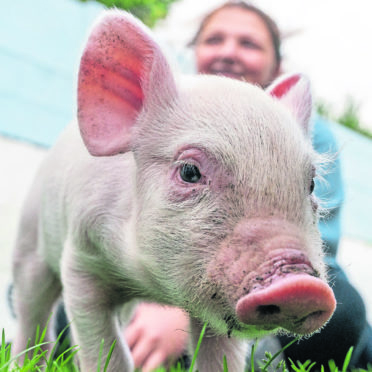 A little piggy who got lost on his way to market has found a new home in Moray after spending a night banged up behind bars.
The cute porker was found by police at the side of the A96 Aberdeen to Inverness road near Elgin, who had no clue where he had come from.
An appeal to local farms from officers failed to provide a new home for the animal – prompting fears he may have to be put down.
But mum-of-two Katy Raffan saved the pig's bacon by offering to put a roof over his head, immediately christening him Branston Piggle.
Yesterday, the piglet was settling into the family home near Elgin where youngsters Caitlin, 13, and Innes, 11, have been tasked with supplying their pet with his new favourite meal – Weetabix smothered in milk.
Although the Babe lookalike has already struck up a bond with the family Labrador Copper, Mrs Raffan revealed Branston is already "very opinionated" about when he can be picked up.
She said: "My friend works in the police and told me they had taken him in and no farmers would take him because of the infection risk.
"He would probably have been put to sleep. It just got to me so I said we would take him here. We've got a small holding with horses and hens so thought he would fit in.
"The children are just over the moon with him, he's a real character. They've been on breakfast duty. I did get some piglet food for him but he seems to prefer the Weetabix."
It is believed that Branston either fell off an animal transporter or escaped a local pig farm.
After a night in the cells in Elgin the popular oinker received a fond farewell from several officers who waved him off to his new home.
Now a dog kennel has been set up for him to sleep in with an area of the family's land penned off for him to trot about in.
Mrs Raffan added: "He's just one of the family now."
A police spokeswoman said: "Our officers came across a piglet during the course of their patrols on the A96 near Elgin.
"They rescued him and took him back to the station while efforts were made to trace where he had escaped from. Thankfully he's found a new home and is settling in well."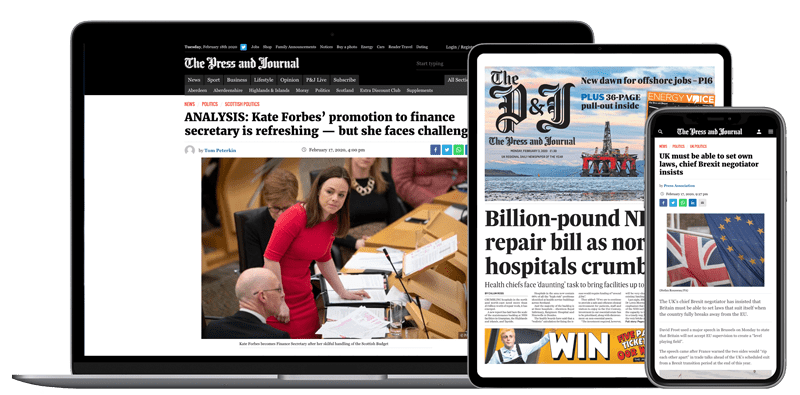 Help support quality local journalism … become a digital subscriber to The Press and Journal
For as little as £5.99 a month you can access all of our content, including Premium articles.
Subscribe