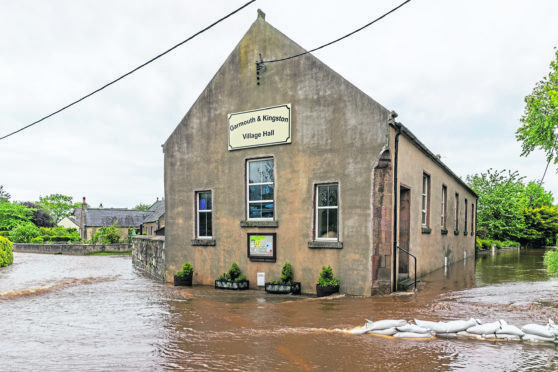 Fresh calls have been made to draw up solutions to ease flooding concerns at a Moray village that has been repeatedly been swamped by river water.
The River Spey has dropped to some of the lowest levels seen since the drought of 1976.
Last night, a Garmouth resident who has been repeatedly flooded by water flowing to the Moray Firth said the dry spell had provided the "perfect time" to perform maintenance to reduce the risk of it bursting its banks due to the low river level.
Meanwhile, fears persist that the risk of a large flood hitting the village could be increasing as the years pass.
A century-old home on the outskirts of Gramouth, which was abandoned due to the flood risk, is believed to be at imminent risk of collapse now as the effect of the water takes its toll.
Now Highlands and Islands MSP Jamie Halcro Johnston is pressing Crown Estate Scotland, who own the river, to discuss possible solutions to ease concerns.
He said: "The Spey has experienced movement for many years now, widening the areas affected by flooding next to the village.
"These issues are not new, yet little seems to have been done to secure the safety of people's properties.
"It is high time that a solution is found which allows people to enjoy their homes in the confidence that they are not at risk of flooding every time the Spey is running high."
Locals have reported that the flow of the river has moved progressively westwards, towards Garmouth, in recent years.
Last night, village resident David Mackay, whose home has repeatedly flooded during the last 15 years, said the river was moving "quickly" towards homes.
He said: "It's moved a lot over the last five years and during that time a paltry sum has been spent on its maintenance.
"The lack of rain will have made the ground very hard, which will increase the risk of a flood until the natural balance of nature is restored again.
"Now would be a perfect time to take some action, like moving trees or removing rocks, while the river is low to allow access."
Crown Estate Scotland has previously stressed the responsibility for dealing with flooding rests with the council but it was happy to discuss proposals with the authority and other agencies. Yesterday, a spokesman confirmed its position had not changed.