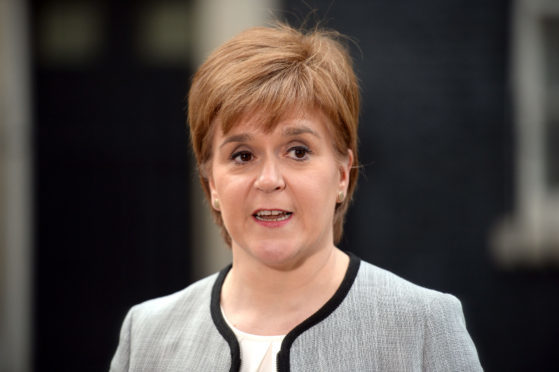 Council leaders across the north and north-east yesterday welcomed the First Minister's announcement that she will hold a consultation on a national tourist tax.
Nicola Sturgeon made the announcement during a speech at the Scottish Tourism Alliance (STA) annual conference in Edinburgh.
She said the government believes the issue requires "careful consideration" in an apparent sign that the SNP's opposition to the tax is softening.
Tourism tax backed in Moray to generate £800k per year for under-pressure services
Current government policy does not support a £1-a-night levy and the SNP has previously suggested its introduction would be problematic and could not happen without the backing of the tourism industry.
Numerous local authorities have called for a change to enable them to secure more money to boost public services.
Highlands and Aberdeen City councils visited Holyrood last month to plead the case for such a tax, claiming it would help them to invest hundreds of millions of pounds in local infrastructure and facilities.
Ms Sturgeon said yesterday: "We will be accepting the STA's call for an objective process of consultation, involving the STA, Cosla and other key partners.
"It will examine in detail the arguments for and against a tourism tax
"We are determined that all voices will be heard and that the details of the process will be properly set out shortly."
During the visit to Holyrood on September 13, Highland Council convener Bill Lobban told MSPs that a £1-a-night levy could pave the way for a £120 million capital spending spree on roads, car parks and toilets in the region.
And Aberdeen City Council's co-leader Jenny Laing indicated the money raised would be reinvested in cultural facilities to help the local economy prepare for its post-oil future.
**Breaking** @NicolaSturgeon announces objective consultation, as STA requested, into a tourism tax. @scotgov will announce more details.

— ST Alliance (@st_alliance) October 1, 2018
The SNP leader of Edinburgh City Council, Adam McVey, meanwhile, put forward proposals for £2 a night tourist tax in Edinburgh, which he said could raise around £11 million a year.
Moray Council also issued a statement in support of the idea.
Aberdeen City Council's cultural spokeswoman, Marie Boulton, welcomed the SNP's announcement yesterday, saying: "I think we have to be extremely clear that this isn't a tax on tourists – it's on the providers.
"We are working to make our city a more attractive place to visit and getting extra revenue to plough into this can only be beneficial to that aim.
"With decreasing funding streams we have to look at creative ways to boost our tourism industry and add to our cultural impact."
In Highland, meanwhile, Skye councillor John Finlayson said: "The whole issue of a tourist tax is a very emotive one and there are clearly strongly-held arguments for and against the introduction of such a tax.
"The arguments for a tourist tax to provide additional finance to support crumbling infrastructure is certainly a strong one in relation to Skye, but the views of those against it who say businesses are already taxed heavily enough and what should happen is that income generated locally from tourism should return to Skye, also have great merit.
"The announcement of a consultation process is, I think, to be welcomed as it gives an opportunity for proper discussion and evaluation of what might work or indeed what might not work.
"Skye has many unique challenges in terms of tourism and I think it is important to explore all and any ways of raising finance to help address issues that are beginning to affect not just tourists but also the local population."
---
>> Keep up to date with the latest news with The P&J newsletter
---
The STA said in a statement: "We welcome the First Minister's announcement that a formal stakeholder consultation into the viability of a tourism tax is imminent and will take into account the interests of Scotland's tourism and hospitality industry.
"The STA reiterated its request to the Scottish Government last week that an objective, well-informed national debate takes place before any decisions are made on granting local authorities the power to raise additional funds via a transient visitor levy."
The idea of a tourist tax is not without its opponents.
One recent Federation of Small Businesses survey showed that 73% of firms in the Highlands were opposed to such a move.
Aberdeen City Council co-leader Jenny Laing said: "I am delighted that the Scottish Government has announced a U-turn and now accept that it is important to look at bringing forward powers to local authorities to introduce a tourism levy.
"I can assure the First Minister that Aberdeen City Council is ready willing and able to play its part in any consultation that may take place with the Scottish Government and those involved in tourism within Aberdeen."