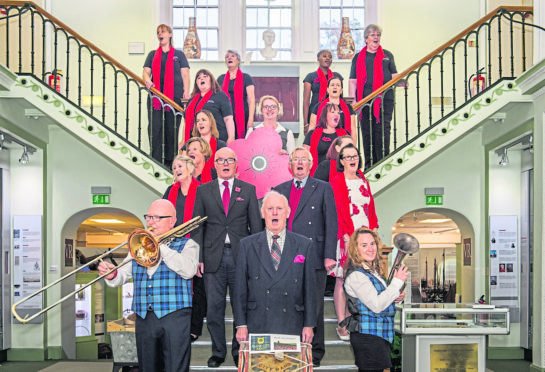 The Kinloss Military Wives Choir (KMWC) will be performing a very special concert to mark 100 years since the end of World War I.
Called Moray Remembers, the KMWC will sing, with the Elgin City Band providing live music alongside them.
It takes place on Friday, November 9 at Elgin Town Hall and will be a night of entertainment and remembrance.
After the success of the first concert two years ago, the choir's musical Brian Smith said he is looking forward to the night.
He said: "We did this two years ago at the town hall and it was a great success so we are determined to repeat that."
The KMWC are also performing at the Scottish Parliament on November 1 at their remembrance events after being invited down by Moray MSP Richard Lochhead.
Lorna Alexander, the band's event volunteer, was excited about the performances.
---
>> Keep up to date with the latest news with The P&J newsletter
---
She said: "It's a real honour to be able to perform for and represent Moray in Remembrance and to alongside the band as well as we don't often get to play alongside the band so it's a really good chance for us to expand our repertoire and sing with proper non-synthesised music.
"It's a really exciting time for us, we've been invited by Richard Lochhead to go down and it's the week that parliament opens up their remembrance events. They will be open from October 31, and we will be going down straight after to highlight them and to sing to parliament and some invited guests so we are really excited about it."
The Moray Remembers concert is in aid of Poppy Scotland and is one of numerous events in the region to commemorate the 100th anniversary of the armistice.
Plaques are going to be unveiled at the Forres War Memorial on October 24, while the Glenmoray male boys choir are holding a concert of remembrance at Elgin Town Hall on November 24.
Lord Lieutenant of Moray Colonel Grenville Johnston hopes that these events will make the younger generation more informed about WWI.
He said: "I am hoping that younger people of this era will remember all this and remember the fact that you can see there is red everywhere and poppies everywhere.
"I'm hoping that that will engage them to not forget it and if we achieve that we will have done very well."
Tickets for the Moray Remembers concert can be purchased from the Elgin Town Hall and cost £10.