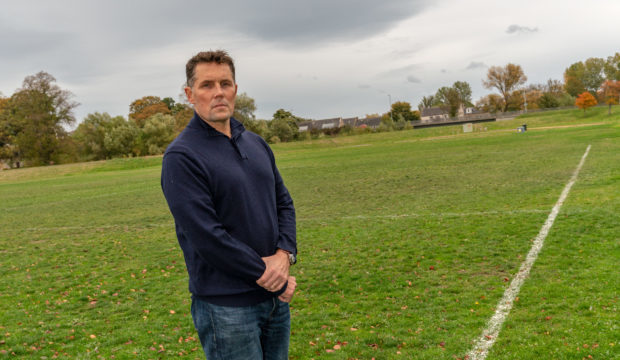 A group set up to improve Elgin's lack of sporting facilities has unveiled plans to tackle the "exodus of youth" – and keep budding sporting talent local.
The Elgin Sports Community Trust (ESCT) was established to improve facilities around the town and get more people active.
And now members have identified their first project – taking over a piece of land and transforming it into modern, all-weather 3G pitches.
The group hopes to do a community asset transfer on the land at Lesser Borough Briggs.
Chairman Dave Allen was inspired to take action after seeing the state of youth football pitches while watching his three sons play for local teams.
He said: "I've got three sons who are all very active, they play football for local teams and I've spent a lot of time either coaching football or watching football.
"Before every match, wherever they are playing, at certain levels we have had to clear up dog mess, broken bottles, cans, hypodermic needles from what is supposed to be playing surfaces for our kids.
"Rather than sitting there and whinging about it, I gathered a group of like-minded parents together and formed a charity to do something about it."
Lesser Borough Briggs is Common Good land, which means it is owned by the community but managed and maintained by Moray Council.
It is currently used by Elgin City for their community football scheme, which offers a range of activities for children aged between three and 14.
However pitch is littered with debris and stones, and its condition often deterioriates further after the circus visits in the summer.
Mr Allen wants to ensure that Moray has enough quality sports facilities to keep local sporting talent in the region.
He said: "One of the issues we have got in our local community is the exodus of youth. That's not just youth disappearing off to find bright lights and big cities and opportunities elsewhere, it's also our sporting talent that's leaving the
area and unless we do something to improve our sports facilities we are going to continue to lose our best sporting talent to elsewhere in the country.
"Our best footballers disappear to Aberdeen or Ross County, our best athletes go down to Stirling and we have to find a way of improving our facilities."
The ESCT is holding a public consultation next month to showcase their community asset transfer plans to locals and get feedback before formally submitting their proposals to the council.
Mr Allen stressed the 3G pitch would be accessible to all, ensuring benefits for the whole community.
He said: "Once that pitch is down it will be accessible and particularly aimed at those with disabilities, those who will readily benefit from the social interaction that sports gives you.
"We will be encouraging clubs and organisations to come down and experience it. It doesn't have to be sport, it can be exercise, just something that gets them up and about.
"We are looking to improve the health of the local community, the social interaction of the local community, build other community leaders, generate more sports team and generate more of a realisation among the community that if you want to do something, you have got the power to do that yourself."
The meeting will take place at Elgin Academy on Friday November 2 at 7pm.
Moray MP Douglas Ross was very impressed after visiting the site of the Moray Sports Centre being built in Elgin.
He joined Moray Sports Foundation representatives Kathryn Evans and Grant Wright for a tour of the new facility which is scheduled to open in May next year.
Mr Ross enjoyed the tour and was looking forward to seeing it officially open its doors.
He said: "It was good to get an update on the project and see how large the centre will be.
"With so much glass incorporated into the design, I'm really impressed at how light and airy it will be when complete.
"It's fantastic to see a development of this type being constructed in the heart of Moray and one, which I am sure, will be used by a wide range of people."
The centre will have indoor facilities such as a gymnasium, a large hall for sports such as netball and badminton and a cafe alongside outdoor pitches for football and rugby plus a first-floor terrace for spectators.
There will also be qualified instructors on hand to provide help and guidance.
However, it will not only cater for proficient athletes or sportsmen and sportswomen, but is being built for the entire community and people of all abilities.
Mrs Evans said she was delighted the project has begun, but added: "tTere is still funding to be found to provide all proposed phases of the centre and the team is continuing to work hard to find this."