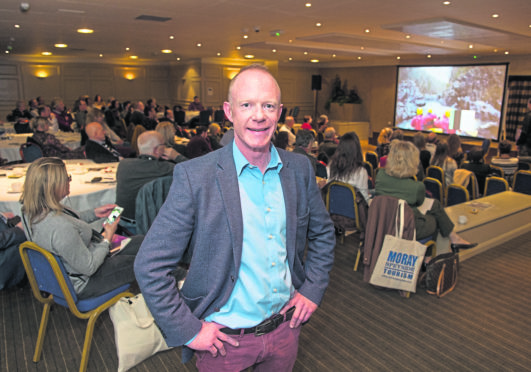 Ambitious plans to promote tourism in Moray have been given a boost after winning the backing of businesses.
Four fifths of the 120 businesses surveyed backed the idea of setting up a Tourism Business Improvement District (TBid), similar to the one in Inverness that has helped boost occupancy rates in hotels and create jobs.
Tourism businesses across Moray would pay a levy to the Bid which would then be invested in projects to improve trade and ensure visitors come back time and time again.
---
>> Keep up to date with the latest news with The P&J newsletter
---
The idea was put forward after Moray Speyside Tourism warned last month it could be forced to close after its funding stops.
The body – which acts as a tourism board – currently receives £55,000 from Highlands and Islands Enterprise and a further £15,000 from the local authority. However the council recently announced that due to its own financial crisis, it will no longer be able to offer the funding.
Last night, Moray Speyside Tourism's operations manager Laurie Piper said he believes the TBid is the only sustainable future for the tourism industry in the region, and welcomed the results of the survey.
He said: "I'm absolutely delighted that at this early stage of proposals the companies have engaged have an appetite for a brighter future for tourism in the region.
"I'm overwhelmed that they have endorsed our proposals and if today's positivity in the conference is a reflection of strength in tourism in the region, the future is very bright.
"The TBid is absolutely critical as without it, there won't be an tourism destination marketing organisation in Moray, this is the only show in town."
Tourism businesses from across the region met at the Eight Acres Hotel in Elgin yesterday for the annual conference organised by Moray Speyside Tourism.
During the event, businesses also identified some aspects of tourism in the area that they would like to see improved through the scheme, such as improving local roads and pavements and amending trading hours to meet visitor needs.
They also agreed initial priorities should including marketing the visitor offering across the region, improving transport around Speyside and extending the holiday season.
It was also suggested that TBid should act as an advocate for local tourism businesses while dealing with the government and other large organisations.
Now the survey has been carried out, the next part of the plan is a formal consultation that will involve the TBid steering group holding one-to-one meetings with tourism businesses to find out what they want.
Mr Laurie added: "This is really encouraging as I firmly believe that a TBid will provide the sustainable solution that the region needs.
"Most heartening though was the majority view that Moray Speyside is a better place to do business in 2018 compared to five years ago. This not only shows that all the hard work over the last few years is paying off but also indicates that we have a bright future ahead of us."