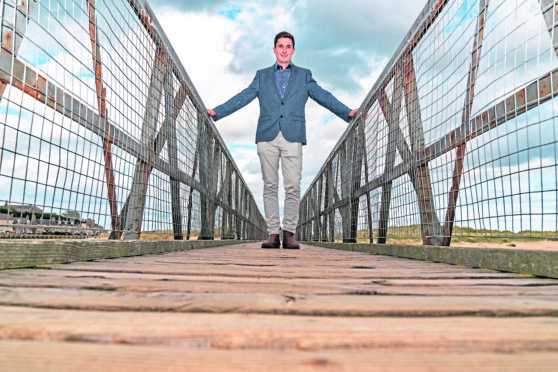 A Lossiemouth group behind a campaign to save an ageing bridge in the town have made significant progress and aim to launch a public consultation this year.
Lossiemouth East Bridge is the only easy access passageway to the beach and without it tourists and local people would not be able to use the coastal location.
However, after 110 years of good service, it has became so badly corroded it may be rendered unusable within the next two years.
The Lossiemouth Community Development Trust (LCDT) now aims to save the bridge and launched a crowdfunder in the summer to raise £10,000 to carry out a full structural survey and an options appraisal report.
Now, after the generosity of the public helped them make £3,800 they are one step closer to deciding on the best way to fix the passageway.
Huw Williams, LCDT development manager, hopes to hold public consultations early in the year after using some of the money raised to get an estimate of the cost of the repairs.
He said: "The public have raised £8,000 and that has enabled us to push the project forward and has helped us dramatically to continue and progress with the project.
"I think we can start applying for large funding pots and we will have something concrete about roughly how much each option will cost by the end of January or beginning of February.
"Hopefully we will then hold a public consultation to get their opinion on the four options on the table."
The four different proposals being looked at by the LCDT are fully repairing the current structure of the bridge, including installing a new walkway, building a brand new top using the existing sub structure, a brand new base and bridge in the current position or a new bridge in the old position where it used to sit.
Heldon and Laich councillor John Cowe was pleased to see action taken to save the bridge but stressed that there was still a long way to go.
He said: "It's came a long way but at least we know the basic structure is sound but there is still a fair bit to do.
"Each day and month that passes, the bridge will get to the point it can't be used and we can't allow that to happen as it is iconic and we need to keep it open."