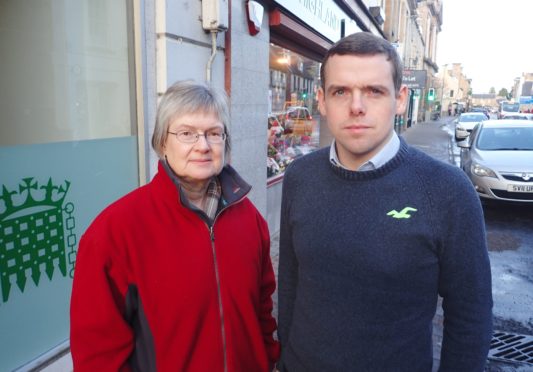 Concerns have been raised over the detrimental impact increasing numbers of wind farms could have on the Moray landscape.
Two applications are being considered by the Scottish Government to extend the Berry Burn wind farm development south of Forres as well as an expansion at the Paul's Hill site in Speyside.
The wind farm at Berry Burn is already one of the biggest in the region, with 29 operational turbines which are about 325ft tall.
There could be 10 more taller turbines built if the extension plans are approved.
---
>> Keep up to date with the latest news with The P&J newsletter
---
Moray Council also previously rejected proposals for turbines at Dorenell, near the Cabrach but the plans were later approved at Holyrood and construction is now underway.
Councillor Claire Feaver, a former chairwoman of the Moray Council's planning committee, said: "The size of the turbines being proposed are monumental. They are much bigger than anything we have seen before.
"Not only that but what we are seeing are applications to retrofit the new larger turbines on to existing structures and then create new wind farms near to existing ones.
"The result will be that great swathes of the horizon will be completely dominated by these huge developments."
Mrs Feaver said a large part of Moray had already lost its designation as Special Landscape Areas (SLAs).
She said: "As a result of the Dorenell Wind Farm, we can no longer say that the surrounding area has great landscape value as it has been so degraded by turbines and pylons.
"Our objections to the application were cast aside. I am fearful that this could be the fate of other cherished historic landscapes in Moray.
"Renewable energy has a part to play in the energy mix but it has to be in the right places and Moray has already taken its fair share."
Moray MP Douglas Ross said locals and business owners had raised concerns with him about the number of wind farm applications being put forward in recent years.
He said: "It is one thing to have wind farms on the landscape.
"It is quite another to turn our beautiful uplands into landscapes dominated by industrial developments. Tourist businesses, on which many parts of Moray are economically dependent, are feeling threatened and ignored.
"We must not allow our most scenic areas to be saturated following decisions made by people based in the Central Belt who don't understand the impact their judgements are having."
An EDF spokeswoman said: "The Dorenell wind farm will bring opportunities, growth and employment in the local area and we will spend around £40million pounds with the Scottish supply chain alone in building it.
"The Dorenell wind farm is an important part of building a low carbon future for Moray, Scotland and the UK."