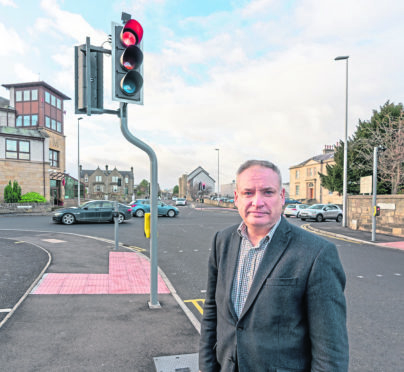 Confusion surrounding the installation new traffic lights at a busy Elgin junction have led to claims of a series of near misses and a call to Moray Council to investigate.
Formerly the site of a mini roundabout, the junction between Hay Street, Northfield Terrace and South Street in the town centre was refurbished last May.
In the roundabout's place were installed smart traffic lights programmed to alter traffic flows at peak times.
The hope was that the change was ease congestion and improve road safety – goals the authority says have been met.
Since their introduction, however, a number of local people have aired concerns that the junction is now more dangerous than ever as some drivers become confused by the new layout.
Now Moray MSP Richard Lochhead has written Moray Council chief executive Roddy Burns to ask him what measures can be taken to solve the problem.
He said: "Many of my constituents have contacted me about the dangerous driving behaviour at the junction since the improvements were put in place.
"While it is perhaps more free-flowing than before, there is clearly still some confusion amongst drivers with the new road lay-out.
"For instance, cars travelling from either side of South Street can be going three different ways and drivers tend to get confused as to who has right of way.
"I have lost count of the number of near misses I have personally witnessed and the number of times that constituents have raised this with me."
A Moray Council spokeswoman insisted the new system was safer for pedestrians.
She said: "We have had no complaints from police about the junction layout and to date only one report of a collision.
"The junction – of which hundreds of the same type exist across the UK, including in Moray – conforms to the Highway Code and is far safer for pedestrians."
The Moray Association of Professional Driving Instructors (MAPDI) offered advice to drivers who may get confused at the lay-out.
A spokesman for the organisation said: "Drivers should always keep a safe distance from the car in front at the 
lights and, if turning, 
should maintain a good position.
"For these traffic lights, straight-ahead traffic and left-turning traffic has priority over traffic turning right.
"Drivers should also consider not entering the junction if the exit road is not clear.
"Try to position your vehicle close to the centre when turning right, so the rear vehicles can pass on your left."