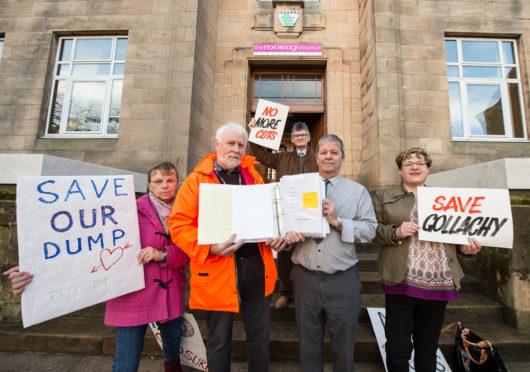 More than 2,500 people have signed a petition to save a Buckie recycling centre earmarked for closure in Moray Council's budget.
Plans to shut the Gollachy facility were announced in the local authority's latest round of savings, which look to plug a £15 million black hole in its finances.
The proposal has caused outcry, however, and two local community councils have teamed-up in a bid to save it and started a petition.
Yesterday the document, now bearing 2,600 names was taken to the council's headquarters to be handed over.
Members of Lennox and Buckie community councils also held a protest on the steps of the council building as they made one final plea to keep the site open.
Angus McNair, a member of Lennox Community Council and leader of the campaign, urged officials to change their minds, pointing to the amount of support their petition had received as evidence of its importance.
He said: "The 2,600 people who signed these petition need the council to think again.
"This petition is effectively the voice of the people and it says loudly and clearly that they should not shut the site.
"Gollachy must be retained and maintained for the foreseeable future."
Buckie Community Council member Christine Allan agreed with all of Mr McNair's points.
She said: "We felt that we needed to pitch up to show our response to the closure of the Gollachy tip.
"We are aware that Moray Council need to make some savings but we feel that closing the Buckie tip would cause more problems than it would bring benefits.
"I hope to see it kept open as it is, but at worst I'd accept a reduction in hours."
The Gollachy site is the only one of nine recycling centres operated by Moray Council currently under threat of closure. It is expected to cease operating in April 2020.
Buckie councillor Gordon Cowie backed the petition and claimed he would fight "tooth and nail" during next Wednesday's budget meeting to ensure it stays open open.
Moray Council's convener Shona Morrison said: "We are definitely going to consider this petition.
"We came here to discuss with representatives from Buckie about any solutions or proposals they have to try and maintain the site at Gollachy.
"We are still open for discussion and we are looking at any other possible means we can to try and keep all the facilities we have in Moray working as well as they can."
A decision about the site will be made on Wednesday as Moray Council's budget is finalised.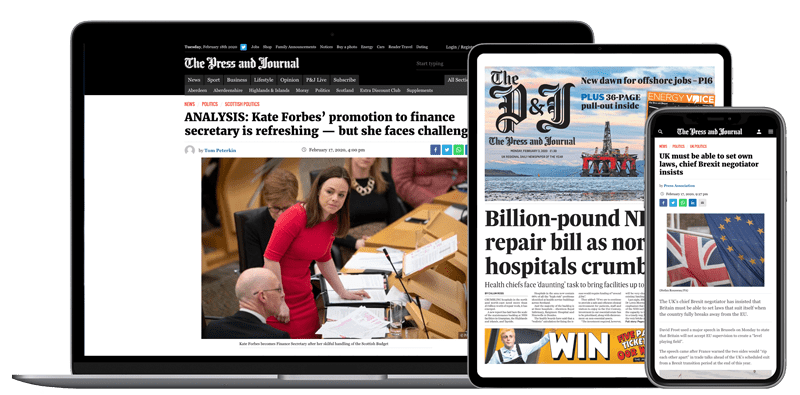 Help support quality local journalism … become a digital subscriber to The Press and Journal
For as little as £5.99 a month you can access all of our content, including Premium articles.
Subscribe