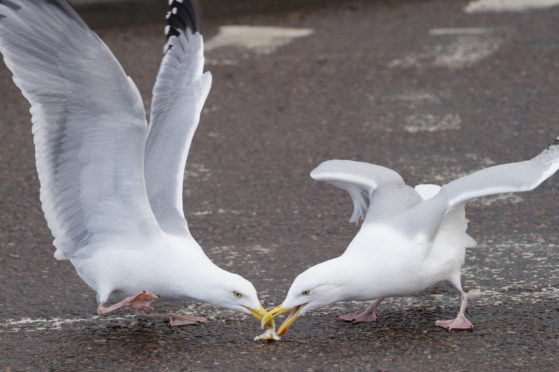 A masterplan to fight back against menacing gulls in Moray's biggest town is being drawn up following a surge in complaints.
Residents in Elgin were forced to endure sleepless nights during last year's summer months due to shrieks from the birds amid reports of holidaymakers cutting short trips as a result.
Now Moray Council is developing a pilot scheme to curb nuisance from the feathered foes involving the oiling of eggs in residential areas.
Action had previously been ruled out due to the prospect of extra expense for the cash-strapped authority.
However, now proposals are being drawn up using a combination of cash from the town's common good fund and housing department.
Last night, Robertson Drive resident Elaine Chapman, who has already endured early mornings this year as a result of the birds, backed the move.
She said: "I think the council's a bit late coming up with measures to control them but it's a good idea now if it controls the breeding, and the racket."
Elgin City South councillor John Divers explained reports of incidents had increased last year – revealing one man had blood pouring from his head after being scratched by a bird.
He said: "It's just a pilot scheme at the moment to see how it goes with a view to extending it.
"It can take three to five years before you see the results though because oiling only prevents birds from being born, it doesn't do anything about the existing ones until they get the message.
"I think it's one of the best uses of common good finances though that I have seen for years."
Egg oiling is considered by experts to be 100% effective and a humane method of bird control if carried out at the right time of year.
Dipping the eggs in paraffin prevents the unborn bird from maturing to the point of hatching while the parent will remain unaware it has been interfered with and will continue to sit on it.
A Moray Council spokeswoman said: "We're looking to commission a specialist contractor for a pilot project to control nuisance from seagulls, mainly involving the oiling of eggs.
"The pilot will cover buildings in Kingsmill, South Lesmurdie and parts of New Elgin.
"We're aiming to have a contractor in place in late April or early May, before the start of the hatching season."
---
The length battle against gulls in Elgin
Gulls have long been a thorn in the side of Elgin residents during the warm summer months.
Lasers were deployed fort the first time in the fight against them in the town centre last year to prevent them from settling on rooftops.
Elgin's business improvement district, which funded the work, says the efforts resulted in a decrease in the amount of young and mess seen last year and the equipment is expected to return this year.
The technology has proved effective due to the birds perceiving the light beam as a physical object and fly off to avoid it.
The turf war has extended to retail parks though, where one gull was caught on film swiping a pack of bacon out of a supermarket trolley when the shopper had their back turned in the car park.
Footage of the crafty creature went viral online with more than 13,000 people viewing it within a day of the steal.
Physical injuries have also been reported as a result of the birds with some experiencing bloodied heads as a result of altercations.