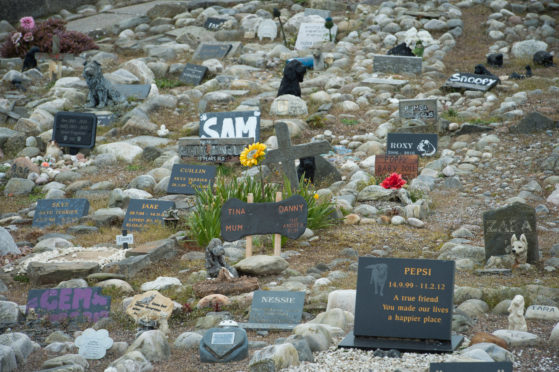 A beloved Moray pet cemetery has been targeted by brazen thieves stealing ornaments from graves.
Located at a picturesque beach site in the coastal town of Cullen, animal lovers from all over the region have travelled there to bury their companions at the volunteer-run cemetery.
The site has been growing in popularity over the last 26 years and is run by local man Stephen Findlay, who is the creator and caretaker of the graveyard, where he digs the graves and keeps the place tidy.
However, it has now been hit by thieves who have stolen items including flowers and flags from some graves over the last few months.
The Cullen Pet Cemetery is well-attended and respected locally and is almost an acre in size.
Mr Findlay mainly inters family pets, although dolphins and seals washed ashore nearby have also been offered a final resting place there.
The former binman was saddened that thieves had stolen items from the site.
He said: "Daffodils I planted were taken, along with some Scottish flags I placed on graves and before that I had a skull on a big step at the steps that was taken.
"It seems to happen every now and then but it's something you can't do anything about.
"I had 12 big tubs of daisies that that someone sprayed weedkiller on and had two bonnie big begonias stolen as well.
"It is disappointing to see."
Mr Findlay was busy today burying a rabbit from Lossiemouth and just last week interred two 21-year-old cats from Turriff.
People can phone Mr Findlay to organise a proper burial for their animals and he is always happy to help out.
Keith and Cullen councillor Donald Gatt condemned the thefts and was "stunned" that someone would steal from a cemetery.
He said: "Any theft is to be deplored as some people are very attached to their pets so for those who lost one recently it would hurt them even more.
"I'm quite stunned someone would go to that length as it really is deplorable someone who steals something from a graveyard.
"It never ceases to amaze me the lengths people go to."
Last night it was not clear whether police were investigating the thefts.