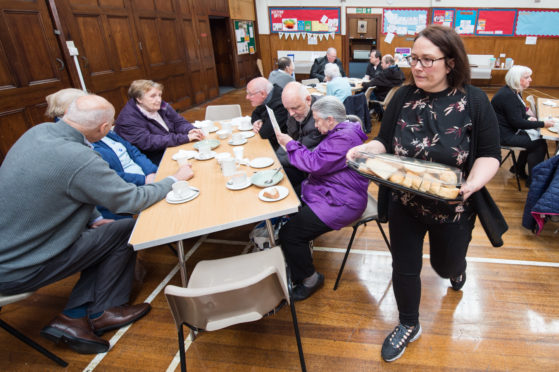 A lunch club that aims to reduce social isolation throughout Moray has been hailed a success, just two months after launching.
The event is run every Wednesday lunchtime at Elgin High Church through an initiative run by Moray Foodbank and the Church of Scotland.
Attendees are provided with a hearty meal on a pay what you feel basis, good company and a chance to stretch their legs.
The scheme was introduced two months ago, and some of the users have already said they are seeing the benefit it is having on their lives.
Sylvia Gray travels through from Forres every week and loves the chance to socialise in a peaceful setting.
She said: "I always come because it is a social occasion and I always get a good meal and to speak to people.
"It is the kind of thing that there needs to be more of throughout Moray."
John Sutherland agreed, and paid tribute to the volunteers from the foodbank and the church who help out with the lunch club.
He said: "This is a wonderful thing for everyone as we are always treated equally and the volunteers are marvelous.
"There are no strangers here and we are all given wonderful food, with days likes this very much needed."
Lindsay Welsh, development officer for Moray Foodbank, said the event is getting busier week-on-week, with a steady stream of 30 people snapping up soups and treats on offer.
She said: "Events like these are vital as social isolation is a big problem and something that regularly comes up when talking to people.
"Transport links are poor and a lot of social events are the first things to be cut when it comes down to it.
"Community meals are successful and there are a few throughout Moray but they were mostly full.
"It's important that cost is not a barrier, as even if they are a but skint they can come along and enjoy themselves."
The lunch clubs run every Wednesday, with everyone welcome to attend.