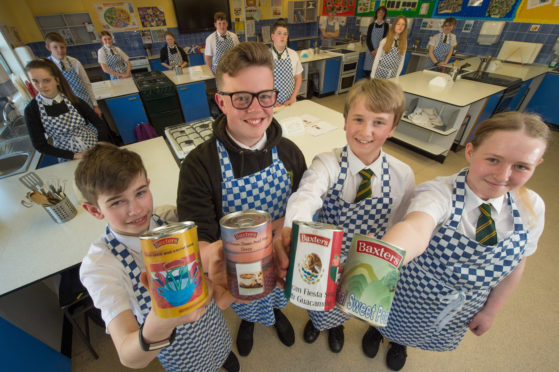 Creative young cooks have been tasked with devising new vegan recipes for a Speyside soup giant.
Pupils at Milne's High School in Fochabers spent yesterday sweating over pots while measuring out ingredients for their creations.
Fresh recipes including Mexican fiesta with guacamole, Thai sweet potato, Thai carrot and chilli and Caribbean bean and rice were chosen by judges from Baxters to be refined in their own lab – with the winning entry going on sale at its factory shop.
The challenge is designed to open the youngsters' eyes to different healthy eating options, while also exposing them to business skills by asking them to compose jingles and labels to market their soup.
Yesterday, judges from Baxters praised the ability of the S2 students to "think outside the box" with their imaginative recipes.
Pupil Matthew McLuckie said: "We checked the vegan requirements on the internet. It was actually quite easy to come up with something once we knew what we could and couldn't use.
"It was interesting because usually you would add chicken or something to the recipe, which we couldn't do, so we got something quite different."
Other recipes devised by students included quinoa and autumn vegetable and roasted aubergine.
Scientific experiments were also carried out on the soups to examine their nutritional content.
---
>> Keep up to date with the latest news with The P&J newsletter
---
Sandy Young, who works in human resources at Baxters, explained the vegan theme was becoming more popular with customers.
He said: "It is a massive food trend at the moment which makes it very marketable.
"So we wanted to expose the kids to what veganism is and its differences with vegetarianism, and show them what complexities there are in making a recipe with no milk or other items.
"It was really interesting to see what they all came up with, there were some really diverse ideas."
Deborah Gordon, principal teacher of home economics at Milne's High, added: "It's really good for the pupils to see what goes on in the food industry while developing links with a local business.
"It lets them see the career opportunities available while also learning about healthy eating."