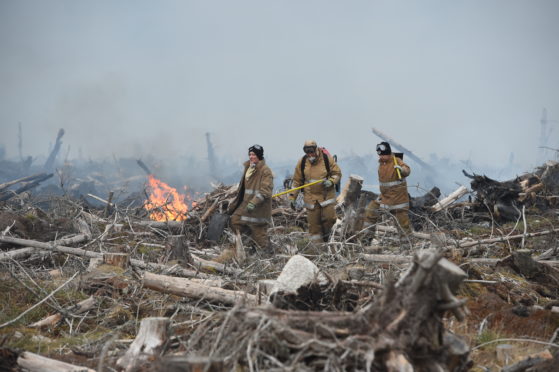 Talks have been arranged in Moray to discuss the many concerns sparked by massive wildfires in the region.
Two huge blazes have devastated rural areas near Knockando and Dunphail in recent weeks – one of which was reported as being the largest of its kind ever seen in the UK.
Now, a public meeting has been organised with emergency crews for next week, in response to fears being raised in the area about the quick succession of the incidents.
Firefighters and police officers will be in Dallas on Monday to outline lessons learned from the blazes while explaining what will be done in the future.
Moray MSP Richard Lochhead, who has organised the event, explained that discussions have already been held by different agencies about the need to be better prepared for large rural emergencies.
Fighting fire with fire: Meet the man tackling wildfires across the country
He said: "I know that the increasing frequency of these fires is causing real concern in our rural communities, given the impact which wildfires have on local landscapes, wildlife and habitats as well as the potential threat they pose to homes.
"These recent fires were brought under control thanks to a monumental effort from local firefighters who worked alongside police, gamekeepers, estate workers and other volunteers who rallied under challenging conditions."
More than 80 people tackled the blaze near Knockando at Paul's Hill wind farm last month which eventually destroyed more than 20 square miles of grassland.
Even when crews thought the flames had been extinguished, they had to return to the moorland after the fire took hold in the dry grass again.
Finderne community council, whose area covers large parts of the countryside that were threatened by both fires, is eager for the causes of the incidents to be understood.
Member Brian Higgs said: "We would like to know whether these recent fires are just a freak of the weather or if the emergency services have found anything in particular that might have caused them.
"One of the questions we would be asking is whether the wind farms have increased the risk of them happening or maybe made them easier to deal with. I don't know whether they would have helped or hindered, but it would be interesting to find out."
The meeting will be held on Monday at the Houldsworth Institute in Dallas at 7pm.