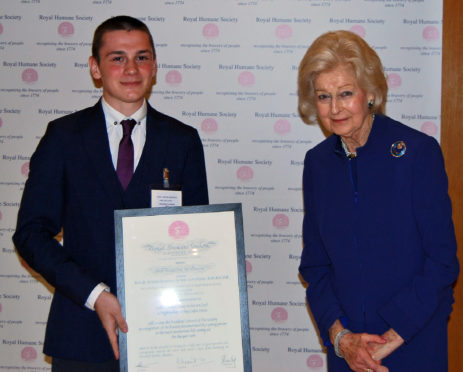 A teenager who threw himself into the icy waters of a north-east harbour in a daring effort to rescue a man who later died has been honoured by royalty.
Jordan Anderson, from Aberdeen, was one of four teenagers who tried desperately to save Darren Paxton when he plunged into the sea at Macduff two years ago.
The youngster immediately jumped into the water when he saw Mr Paxton was struggling, and swam more than 160ft from the shore to reach him.
Kyle Chapman, from Rothes, threw a lifebelt towards Jordan, now 16, and he managed to use it to bring the 41-year-old ashore to a team of waiting paramedics.
But, despite the teenager's heroic efforts, Mr Paxton died in hospital the next day.
Jordan has now been presented with the Royal Humane Society's first ever bravery award, which will only be handed out once a year.
He was presented with the new honour by Princess Alexandra during an event in London.
---
>> Keep up to date with the latest news with The P&J newsletter
---
Andrew Chapman, secretary of the Royal Humane Society, praised the teenagers for their efforts.
He said: "Tragically the man died in hospital the day after the incident. But these youngsters ensured that he had the best possible chance of survival.
"They did a superb job between them in rescuing the man from the water, and caring for his distraught partner.
"Jordan certainly merits the honour for the way he persevered. The four of them are a credit to the younger generation."
Speaking at the time, Jordan said he jumped into the icy waters as soon as Mr Paxton, of Aberdeen, looked to be in danger.
He said: "I wasn't really thinking, I just saw him in trouble and jumped in.
"I don't know what to think about people calling me a hero – it's quite a surprise, really."
All of the teenagers involved in the rescue received certificates of commendation from the Royal Humane Society previously.
After she had presented him the latest award, at Haberdasher's Hall in London, Princess Alexandra talked to Jordan privately about the incident.
The Queen is the patron of the Royal Humane Society and Princess Alexandra is the charity's president.
The society was founded in 1774 and has been granting awards for acts of bravery in the saving of human life for more than 240 years.