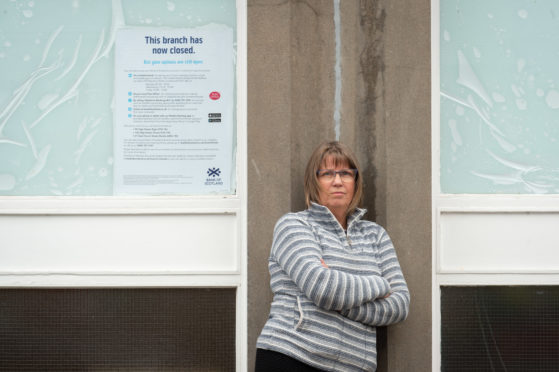 Business leaders in Lossiemouth have branded banking facilities a "disgrace" after cash points ran dry on the town's first weekend without a branch.
Businesses such as taxis and takeaways were thrown into chaos as locals struggled to get their hands on banknotes.
The town's plight was branded "shocking" by one local councillor who fears matters will only get worse during the summer, when visitors flock to the town.
The plug was pulled on the Bank of Scotland's hole-in-the-wall last week when the branch closed its doors for the final time.
That move left just two bank machines in the town – one at the post office and another at a Coop store.
Each was however out of action at the weekend, forcing frantic locals to come up with innovative solutions to get their hands on money.
There were reports of shoppers buying tins of beans in the supermarket just to get cashback from the tills.
Last night, business leaders in the town warned bank bosses that cash was far from dead in rural communities and called for them to urgently reinstate facilities.
Denise Bedson, secretary of Lossiemouth Business Association, said: "The situation at the weekend was disgraceful.
"A lot of small businesses can't afford card facilities. I know there are cheaper solutions but the phone signal isn't always the best here for them to work properly.
"We're not at the point yet where we can do away with cash. In Lossie it's probably still many years away.
"We're trying to get more banking facilities here because the situation is very difficult at the moment."
Lossiemouth previously had ATMs that were available round-the-clock at branches of the TSB, Clydesdale, Royal Bank of Scotland and Bank of Scotland.
All have been lost to the town in recent years, however, as  banks have pulled out of rural communities across the north-east.
Meanwhile, doubts persist over whether the cash point will remain at the post office as that business is currently being offered for sale.
Heldon and Laich councillor James Allan warned that cash machines in the town were already under strain when the Bank of Scotland was open.
He fears its closure will make the situation much worse.
Mr Allan said: "Lossiemouth is such a busy town in the summer.
"It isn't unusual to see people queuing up at the bank machines during hot sunny days.
"The situation as it was at the weekend, however, was shocking.
"People not having access to cash is hurting some of the businesses, particularly the taxis and takeaways.
"I've heard of people asking taxis to pull up at the cash machines to pay them only to get there and find out they're not working."
Detrimental effect
Bank closures across Moray will be debated in Westminster on Wednesday as the UK Government is challenged to take action.
The region has been devastated by the loss of 16 branches since 2015, with the most recent the Bank of Scotland sites in Keith and Lossiemouth.
Soon to follow will be the TSB branch in Keith, which is due to close in July.
Moray MP Douglas Ross wants to ensure the government treats the final bank closure in a community – such as that in Lossie, Fochabers and Aberlour in recent years – differently from others.
He said: "Lossiemouth is a growing town because of the UK Government investment at the RAF base that will see an additional 400 personnel and their families arriving in the next few years.
"This expansion makes the decision of the banks all the more disappointing.
"These closures have a detrimental effect on our towns right across Moray.  It affects access to accounts and money for both business and private customers.
Mr Ross is also eager for more work to be done to investigate "banking hubs" in the region, which would involve firms jointly funding a site with specially trained staff.
He added: "Mobile banking as a substitute is also not good enough.
"People in Moray deserve better yet here we have a situation where the banks deem it appropriate to close up shop and leave town.
"What kind of message is that giving to all those who live, work hard, or visit our iconic part of Scotland?"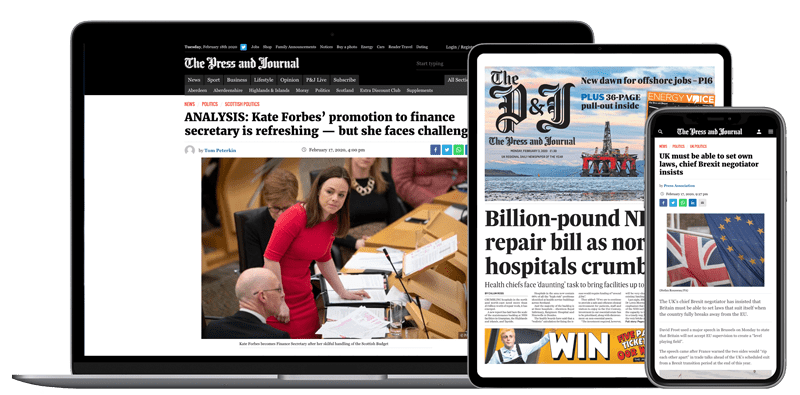 Help support quality local journalism … become a digital subscriber to The Press and Journal
For as little as £5.99 a month you can access all of our content, including Premium articles.
Subscribe