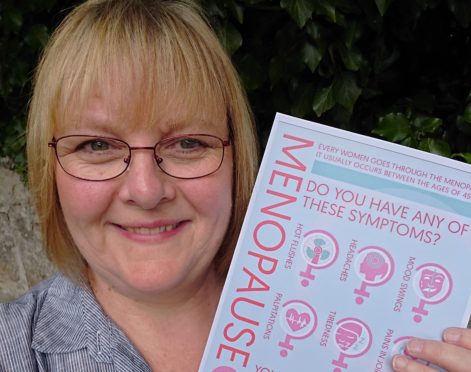 An Elgin woman has co-founded an online campaign which aims to highlight the symptoms of menopause.
Karen Kenning says that while the biological stage hits every female, few are prepared for anything beyond hot flushes – and that can mean that other symptoms such as disturbed sleep, mood swings and anxiety fail to be diagnosed.
Campaigners frustrated at the lack of information available through their local GP surgeries are now calling on women to spread the word themselves with a new poster.
Ms Kenning, of campaign group Pausitivity, hopes to reach more people with the scheme.
She said: "We want women to see the information in our posters and feel better informed by it.
"Something as simple as being able to recognise the symptoms is a good, first step to enabling informed conversations between women and their GPs, and it would be great if women download and print the poster to share in places like changing rooms, or community centres where other women will see it too.
"Hopefully, by knowing your menopause, we can help make life better for women around the country."
Pausitivity was formed by women from around the UK and North America, all working together to make menopause a more positive experience for other women.
They hope the poster, created by graphic designer Allyson Shields, will help women recognise symptoms and empower them to seek help from their GP.