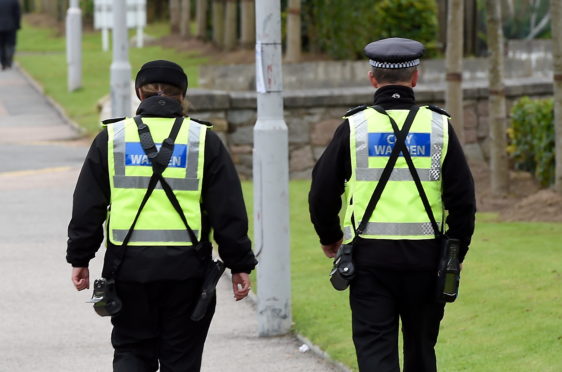 Motorists in the north and north-east stumped up more than £1.5million in parking fines last year – with one council enjoying a 1,099% rise in revenue through the penalties.
More than 55,300 penalties were issued to drivers in the Highlands, Moray, Aberdeenshire and Aberdeen in 2018, actually 500 fewer than the previous year.
According to data obtained by Confused.com through freedom of information requests, the four authorities took in £1,565,694 in fines.
In Moray, there was a huge increase as the council issued 1,592 fines to vehicle owners, up from just 118 the year before.
Last night a council spokeswoman said the massive change – which boosted local authority coffers by more than £75,000 in 2018 – was not down to a rule change, but stricter enforcement.
Moray Council had raised a meagre £6,300 the year before, meaning a 1,099% leap in parking fine revenues.
A spokeswoman said: "No changes to policy have been implemented, however car park attendants are now encouraged to revisit vehicles where a warning had previously been issued and, if the vehicle is still present and not complying with parking rules, to apply an excess charge notice (ECN).
---
>> Keep up to date with the latest news with The P&J newsletter
---
"Drivers can avoid the charge by ensuring they park within a marked bay, and display a valid ticket."
Penalty charges collected in Aberdeenshire were up a fifth in 2018 too, as the authority raised £112,822.
A spokesman for Aberdeenshire Council said: "We see a consistent lack of compliance with the rules for our off street car parks and the number of ECNs reflects that.
"Our use of safer community wardens in Peterhead and Fraserburgh for off-street parking management is helping us to enforce the rules in these areas, but there has been no other increase in enforcement officers, simply a more efficient use of resources.
"The easy way to avoid being issued with an ECN in Aberdeenshire is to adhere to the terms and conditions of our off street parking facilities.
"Users should ensure they have a valid ticket or permit, park within the marked bays, refrain from the misuse of disabled bays or electric vehicle charge points, all of which are outlined on pay and display car park signage.
"Any money recovered through the issue of ECNs is reinvested in the council's off street parking service."
Both Moray and Aberdeenshire councils only enforce rules in off-street car parks, whereas Highland and Aberdeen City have decriminalised parking.
It allows them to issue penalty charge notices (PCN) to drivers breaking the rules anywhere in their area.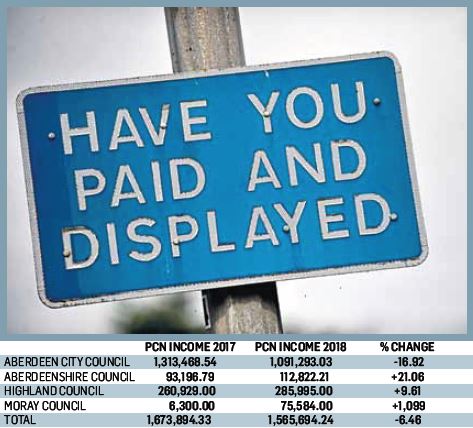 Aberdeen was the only of the four councils to suffer a drop in revenues from fines in 2018, collecting £222,175 less than the year before.
It still toted up more than £1million, however, after issuing more than 38,500 fines.
Money raised will help the cash-strapped council fund various departments and projects, a spokesman said.
Highland Council's purse was boosted by an extra £25,000 raised through PCNs, up 10% on the year on 2017.