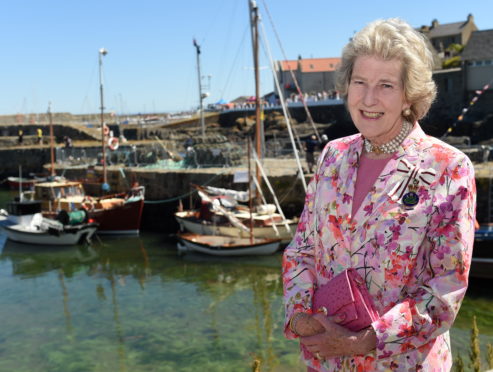 A north-east landowner who has represented her community for nearly three decades is preparing to step down.
Clare Russell was appointed Lord Lieutenant of Banffshire 17 years ago, but has served in the capacity as a deputy and vice post-holder since 1991.
Now, the popular owner of Ballindalloch Estate is preparing to step down next month as she reaches the age of 75, which is the enforced retirement age of all lord lieutenants.
Mrs Russell was instrumental in a campaign to erect nine "Historic Banffshire" road signs, which was supported by local distilleries, to preserve the name of the county and give exiles a warm welcome when they returned home.
However, the land owner, who has also been involved with the Moray Health Council, Scottish National Trust and the Scotland Garden Scheme, intends to hold one last event before she steps down to celebrate the community she has served for almost 30 years.
A garden party will be thrown in her honour in the grounds of Ballindalloch Castle on Sunday, August 18 with everybody invited to mark not just her retirement, but also the centenary of the Keith-based Strathisla Pipe Band.
The group will perform with other pipes and drums from Dufftown, Buckie, Banff and Aberlour, alongside the ceilidh band of Dufftown's Andy McCormack, who received a British Empire Medal from Mrs Russell this year, as well as Keith Brass Band, the Buckie Boys' Brigade bugle band and the Kinloss Military Wives Choir.
During her time in the role, Mrs Russell has organised 40 royal visits, most recently when the Earl of Forfar visited Dufftown and Keith earlier this month.
A spokesman for the organisers said: "The afternoon is an opportunity for people from across Banffshire to come together to enjoy music from local performers.
"The occasion will celebrate the successes of Strathisla Pipe Band and Mrs Russell's dedicated and outstanding contribution to the life of the area.
"During her time as lord lieutenant, she has played an active role in supporting and promoting community and charity activities as well as local businesses."
Gates open for the free garden party at 2.30pm. Food vans will be on site, but visitors are welcome to bring picnics.