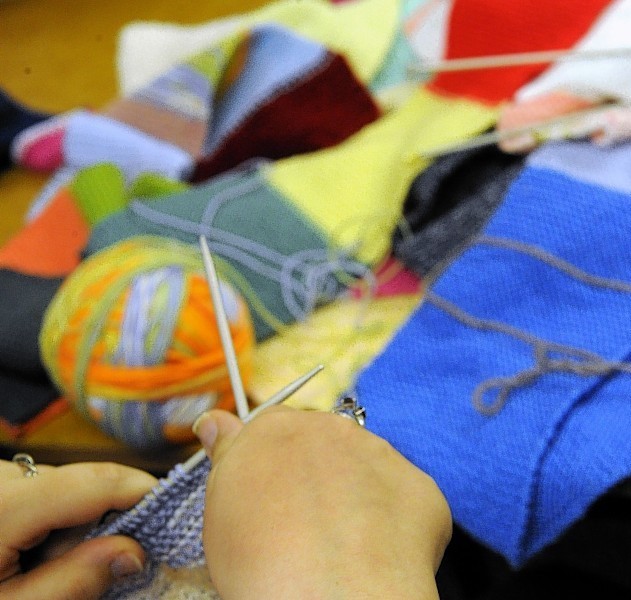 Crafty volunteers are getting together to help lonely older people in Moray this winter.
Age Scotland is urging people across the area to have a "knit and a natter" and support its biggest ever Big Knit Appeal.
Volunteers, including Keith's Be Active Life Long (Ball) group, have already contributed thousands of small hats to the campaign.
The charity has set a target of knitting 59,000 hats by the end of next week.
The drive will raise funds for Age Scotland, but the campaign brings volunteers together over a shared interest.
Michelle Supple, the organisation's director of charity services, said: "We're delighted that so many knitters across Moray have been supporting our campaign.
"There's been a fantastic response so far and we've loved seeing so many quirky and unique designs – everything from frogs to minions.
"Winter can be a difficult time for many older people, especially those who live alone. Every penny raised will help us tackle loneliness and social isolation among older people in Scotland.
"There's still time to send your hats in before our deadline. Whether you're a beginner or an expert, I'd encourage everyone to choose a pattern, cast on, and get crafty for a good cause."
To take part, people can send completed hats in the post to The Big Knit, Age Scotland, Causewayside House, 160 Causewayside, Edinburgh, EH9 1PR.
For more information and knitting patterns, interested individuals can visit Age Scotland's website at
bit.ly/2Y6JTHV
Older people who are concerned about loneliness, finances or any other issues can call the Age Scotland Helpline on 0800 12 44 222.