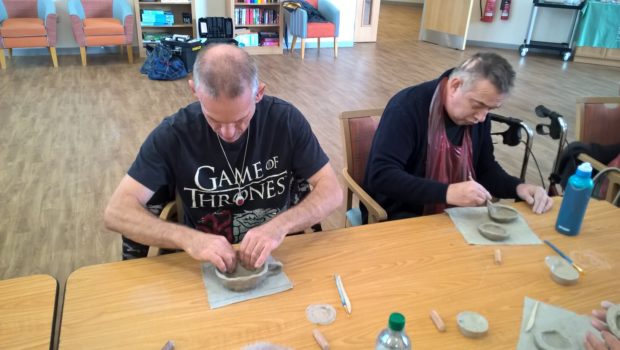 Older people in Elgin have tried their hand at pottery for the first time as part of an innovative new project.
The free class at Hanover Housing Linkwood was part of First Time for Everything, a programme designed by the Royal Voluntary Service (RVS) and insurance company Prudential to give locals the chance to try something new.
The freclass, run by Tanya Kucharski of the Buckie Pottery Company, took place at Hanover Housing Linkwood.
Tanya Kucharski ran the session, starting off with a demonstration where she made a ceramic Highland Cow.
Ian Menzies, RVS activity coordinator for Moray, said: "It's been wonderful to see so many local people enjoying our First Time for Everything activities.
"Thanks to funding from Prudential, we have lots more exciting events coming up and hope that even more older people, their carers and families will come along.  It's never too late to try something for the first time."
Jillian Lobban, from Prudential, said: "We want to help create experiences that enhance the lives of older people and at the same time help address the epidemic of loneliness in the UK, particularly amongst the elderly."
The next First Time for Everything will be a card decorating session at Hanover Housing on Thornhill Drive on November 5, from 2pm.
Anyone with an interest in taking part – or volunteering – is welcome.
For more information, call Mr Menzies on  07342 052420, e-mail ian.menzies@royalvoluntaryservice.org.uk, or visit www.royalvoluntaryservice.org.uk