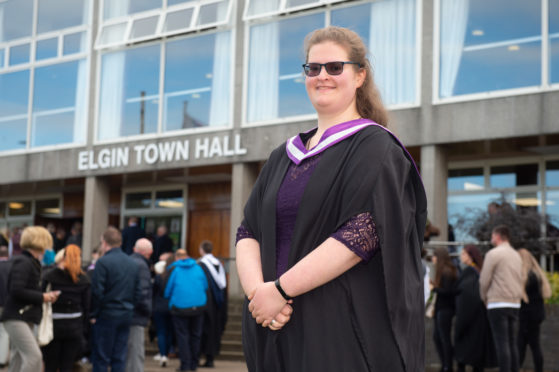 Studying online can be a lonely way of completing a qualification – but Rebecca Poyner threw herself into college life.
Now a BA (Hons) Child and Youth Studies graduate, Miss Poyner has been named most inspiring student by her peers.
Although her course at Moray College UHI, was completely virtual – a challenge at first –  self-motivated Miss Poyner threw herself into engaging with all aspects of college life.
The 22-year-old, from Auldearn, was nominated as class representative and ran the student peer support group, using her own battles with mental health and the difficulties of being a distant learning student to become what she describes as "the voice of the online students".
She added: "In terms of my own academic experience and mental health journey, I find it important to share and learn from others so we can all support one another."
On top of her studies, Miss Poyner volunteered with Moray wellbeing hub and was named their 2018 young champion. She has now secured work as a mentor with the hub and is "excited" to continue helping people in the future.
"The path I am on is towards empowering young people and improving mental health. I am looking forward to surprising myself by fulfilling my full potential."