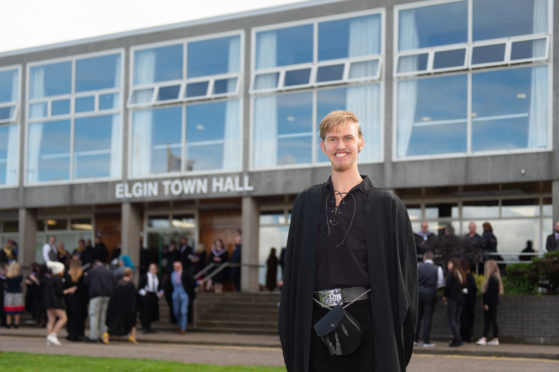 With his positive attitude and resilience to overcome any challenges that come his way, Robbie Mungersdorf has graduated from Moray College UHI despite battling a life threatening medical condition and undergoing emergency brain surgery during his course.
Although often not feeling well, Robbie incredibly only missed two weeks of his hospitality class, when he was absent for his operation, after which he "wanted to go straight back to college the next day".
Robbie, of Elgin, has been heralded as a daily inspiration to both students and academics at the college who nominated him to be the Winner of the Developing the Young Workforce Award and the James Smith Award.
The 17-year-old has always held a passion for cooking, which he inherited from his grandad who was a chef and finds the process of making food "just really good fun".
Robbie excelled at his City and Guilds level 1 Certificate in Introduction to Professional Culinary Skills and City and Guilds level 1 Certificate in Professional Food and Beverage Service course, particularly enjoying being shown new skills and is now working on perfecting his signature dish.
"What I learned at college will really help me get my dream job of being a chef."
As well as dealing with the struggles of his medical condition on a daily basis, recovering from surgery and attending college, Robbie also helped out at events run by the hospitality department and works part time in the Moray leisure centre café.
Robbie's mum Bridget, 49, is exceptionally proud of her son's accomplishments, both academically and personally, and in awe of his ability to overcome adversity.
"He's been dealing with it all really positively and I'm just so pleased to see him graduate. It's a great extra achievement on top of everything else and we are in full celebration mode."
Graduate Robbie will now progress onto level 6 of his course and will continue to show his dedication and culinary flair in the kitchen next year at Moray college.
HND Computer Science graduate David Majewski also showed commitment to his studies, going as far as staying at a bed and breakfast in Elgin four nights of the week to attend college. David, 18, saw the benefits of this however, saying "it gave me a bit of independence and encouraged me to be self-disciplined with my coursework."
His motivated nature did not go unnoticed by his lecturer, who was impressed by his maturity and put forward David, of Invergordon, for the SQA prize for his consistently remarkable grades and 100% attendance. David says he was "amazed" to have won and feels honoured by the accolade.
David thoroughly enjoyed his course and is looking forward to moving on to his third year at the college to obtain his honours.
He said: "I would recommend studying at Moray College since it has a great atmosphere and the staff are fantastic."