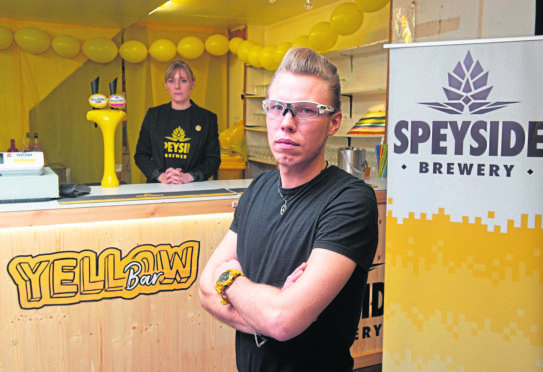 A Moray brewer has abandoned plans to open a new bar – blaming "endless red tape" from council planners.
Businessman Seb Jones, managing director of Forres-based Speyside Brewery, had intended to expand by transforming a former bike shop in the town.
However, now the Yellow Bar plans have been cancelled amid concerns that fulfilling planning requirements to meet public access demands could lead to bills stretching to considerably more than £10,000.
Yesterday Mr Jones described requests included widening the pavement outside the shop and raising the level of the street to satisfy drainage regulations.
He said: "To meet their requirements would cost many, many thousands of pounds – dramatic changes we didn't see as necessary and a cost we couldn't meet.
"Even if we had, there would still be no guarantee of consent, and thereafter we would start all over with the licensing process which could likely require more works to be done.
"The shop functioned for decades with the existing public access never an issue, so frankly, we've been at this for a year now and our time, patience and resources are exhausted. We've been beaten by red tape."
Following talks with the building's owners plans were submitted in January but did not progress beyond the pre-application phase.
The bar proposal had raised hopes that the unit occupied by the former Stuart's cycle shop, which had traded for nearly 100 years until the owners retired, would not remain empty for long.
An online appeal among long residents raised more than £7,000 to support the business – evidence, Mr Jones says, that there would be a "huge demand" for an alternative to the traditional pub model.
A fundraiser to support local charities is due to be held in the bar from noon to 10pm today and tomorrow to showcase what the venue could have brought to the town with live music, an auction, piano music and a Lego competition.
Yesterday Moray Council declined to comment on the proposals.
A spokeswoman said: "Whilst we can't comment on live planning applications, each application is assessed on its individual merits."