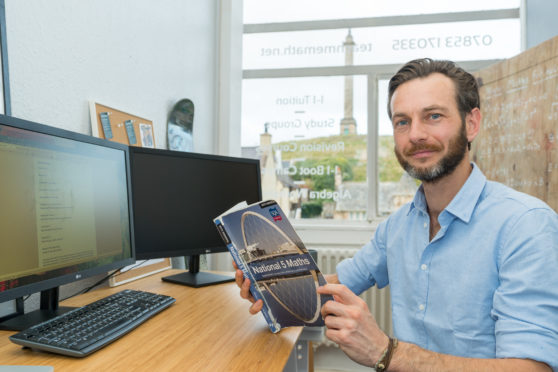 A Moray maths tutor fears children in the region are a year behind their counterparts in the Highlands – blaming a lack of resources and organisation for the "systemic problem".
Gary Thomson, from Elgin, gives secondary school pupils in the region and in Inverness additional support in the subject outside of the classroom.
He claims that during his five years tutoring students, he has seen a gulf between those he helps in Moray and those outside – and now fears the system is "letting the current generation down".
Yesterday Moray Council insisted that numeracy continued to be a key area for improvement for schools with teacher recruitment in the subject improving.
However Mr Thomson is concerned that after speaking to his students it seems that "disorganisation" in the classroom is holding back the potential of children.
He said: "Although I'm generalising, the students I see in Inverness are about a year ahead in their maths – it's like a different breed of student altogether and the support, materials and organisation of the schools puts those in Moray to shame.
"The disparity is striking and geographically they're so close.
"Although it's in my business interest for the education system to be crumbling, my primary focus is on students being given the best chance of pursuing their future goals. That's not happening at present."
Mr Thomson, who has about 30 students on his books, said only "raising the ambition" for students could reverse the trend – questioning the council's description of this year's 74% pass rate at National 5 level as "positive".
He added: "I totally empathise with the position they're in, there's a real recruitment crisis, but I have students who tell me they have teachers who get flummoxed when they try to explain things in class."
Forres councillor George Alexander, who taught maths at the town's secondary school, has called on an emphasis on maths from a younger age.
He said: "I find the numeracy skills of children now is not as good as it used to be. It's very difficult to generalise from such small sample sizes though.
"I think if you asked teachers today though you would find numeracy needs an awful lot more time in primary school than it's getting at the moment."
A Moray Council spokeswoman stressed that senior students continued to achieve the "highest levels" in maths every year.
She added: "Ongoing work to focus on numeracy continues to be a key area for improvement. There are a number of initiatives in place in Moray to support the improvement of attainment, including a broader range of numeracy qualifications to support learners at all levels.
"Recruitment of maths teachers in Moray is an improving picture, particularly as we progress high-quality training and engagement."