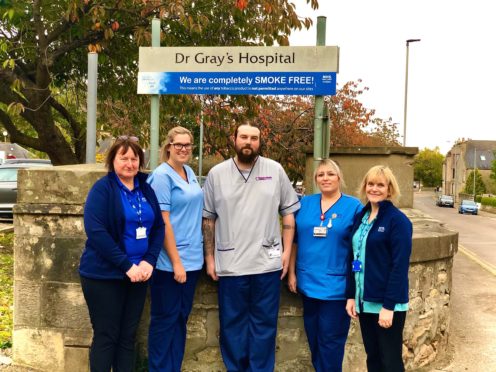 Health bosses have warned that action is needed now to cope with an aging workforce at Moray's biggest hospital.
NHS Grampian is already in the midst of a staffing crisis that has forced women and children's services at Dr Gray's to be downgraded due to a shortage of doctors.
However, now management have warned that a focus is also needed on filling non-medical posts at the Elgin unit due to upcoming retirements – including in physiotherapy, dietetics and occupational therapy.
Douglas Andrew, NHS Grampian's learning and development manager, believes it is "really important" for the health service to act now to attract staff for the future.
He said: "It's safe to say that we do have an aging workforce and we need to address this now to ensure that we fill all the roles that are required so we can continue to provide the services we do.
"When most people think of a hospital they tend to think of doctors, nurses and the other frontline positions.
"However, there are so many more roles within the service. We also have a large workforce who carry out clerical roles so there are business administration and non-clinical roles too."
NHS Grampian has teamed up with DYW Moray for an event to be held next month to try and attract youngsters into roles with the health service.
Opportunities including apprenticeships and work experience placements will be highlighted in order to let school-leavers sample jobs at the hospital.
Sarah Baxter, manager DYW Moray, hopes that offering an insight into possible careers will encourage young locals to pursue job opportunities in the area with the NHS.
She said: "The organisation offers foundation, modern and graduate apprenticeships and what they really want to make known is the fact that they can provide careers to young people who have a range of attainment levels.
"The DYW Moray message that there are many pathways into employment and NHS Grampian embraces this wholeheartedly."
The DYW Moray and NHS Grampian event will be held at Dr Gray's on Friday, November 9, from 9am to 1pm. To register contact Mrs Baxter by e-mailing sbaxter@dywmoray.co.uk