Worried residents are bracing themselves for the worst amid warnings that stormy seas could cause flooding along a stretch of the Moray Firth.
Low lying parts of Findhorn, Burghead and Lossiemouth were all deemed at risk of rising water.
Council workers and residents piled sandbags high at properties thought to face the highest danger of being swamped.
Coastguard crews and firefighters are on standby should any emergencies arise.
The Scottish Environmental Protection Agency (Sepa) warned that strong winds coming from the north would stir the waves stretching along Moray's coast and could result in floods – particularly in Lossiemouth.
Properties are thought to be most at jeopardy between 11pm and 2am, when the tide is at its highest.
In the early evening, with the sea rapidly rising and waves crashing into the harbour, council workers visited residents and traders in the area to warn of the potential flooding.
Leaflets offering vital advice were distributed to people in the Seatown area and nearby Shore Street.
By 5pm, the council had delivered four palettes of sandbags to both areas by the harbour –  with more to come should the risk increase further.
Richard Anderson, head of housing and property for Moray Council, said the warnings were "not about scaremongering" but designed to make people aware of the dangers.
Two employees of Lossiemouth's AA Simpson welding company were quick to stockpile sandbags, stacking them along the entrance to protect their business.
Malcom Hendry said: "It must be a pretty serious warning if we got sandbags but it's good that the council is cautious."
Frank Ralph, who has owned properties along the harbour since 1974 and endured severe floods in 1999 and 2012, was concerned for his buildings as the tide was extremely high earlier than usual.
He said: "What has happened before is that the water goes over the harbour, runs down and goes in everywhere – so we are doing the sensible thing and preventing any damage if possible."
Flooding proved to be an issue for rail travellers as many trains were delayed in the Highlands.
Between Inverness and Wick, a blocked ditch by the side of the track near Golspie caused major disruptions are trains were reduced to travelling at a speed of just 20mph.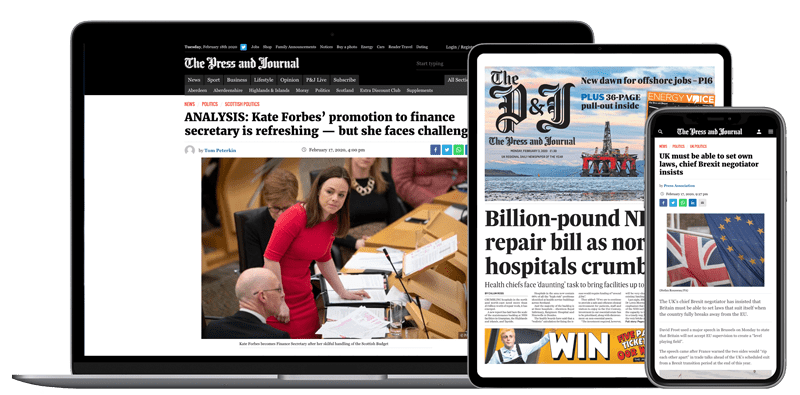 Help support quality local journalism … become a digital subscriber to The Press and Journal
For as little as £5.99 a month you can access all of our content, including Premium articles.
Subscribe