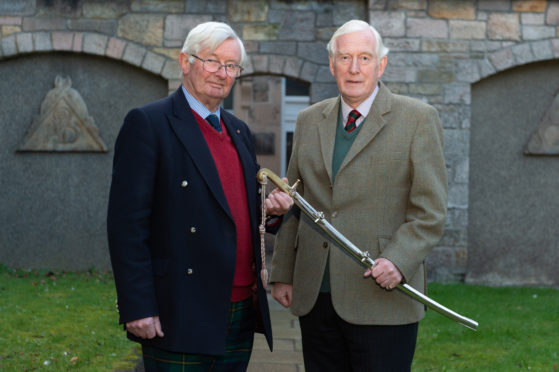 A former Army commander who led the campaign for a £2.9million refurbishment of the Highlanders' museum at Fort George has been appointed as the new Lord Lieutenant of Moray.
Major General Seymour Monro's appointment to the post means he will become the Queen's personal representative in the region.
Last night previous incumbent Lieutenant Colonel Grenville Johnston stepped down from the position on his 75th birthday, the age of compulsory retirement from the role.
The sword of office, which bears the crest of King Edward VIII who abdicated from the throne within a year in 1936, was passed between the men to mark the transition.
Maj Gen Monro, who has been a deputy lieutenant for nine years, described himself as "a little daunted" but "honoured" to step up to the top post.
He said: "My first duty, excitingly, will be to welcome the new Poseidon aircraft to Moray next week.
"As a boy I used to lie at the end of Findhorn Bay and watch the Shackletons fly over and I was honorary Air Commodore at RAF Lossiemouth.
"Maritime patrol aircraft have been in my blood so I'm thrilled to be welcoming them."
Maj Gen Monro, who lives in Dallas, is currently chairman of the Northern Meeting Piping Trust and holds leading positions with groups including Forres Pipe Band, Forres in Bloom the Royal British Legion and is on the steering group to transfer the former Leanchoil Hospital in Forres to the community.
The 69-year-old has previously held positions as chairman of the Findhorn, Nairn and Lossie Fisheries Trust, the Highlands and Islands Prince's Trust and the Highland Military Tattoo.
He commanded the 1st Battalion, Queen's Own Highlanders on operations in Belfast and the first Gulf War and has been made a CBE.
Lt Col Johnston, who was lord lieutenant from 2005, said he intended to remain involved with the Moray Society, Pluscarden Abbey and Morayvia but explained he intended to step back from senior positions.
He added: "I've never had so many birthday cards as I have done this year, the support has been incredible.
"I wish Maj Gen Monro well, I know he will have as much pleasure as I have had in meeting the people of Moray."