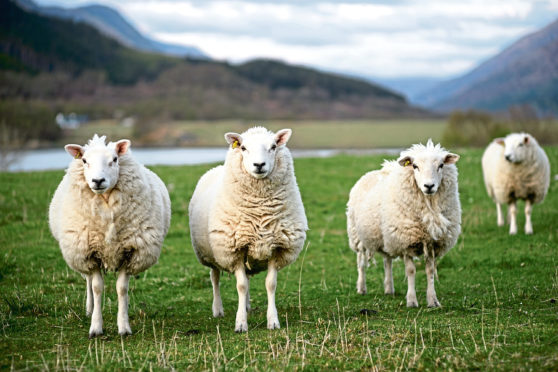 Dog walkers have been urged to ensure the animals are kept on leads, near livestock, after a flock of sheep was savaged in Dufftown.
The incident led to one of the flock receiving flesh wounds around its neck and leg and a warning has now been issued to prevent any recurrence.
Fifteen-year-old Emma Murdoch, who owns eight sheep on farming land in the town, was left devastated after attending to her flock near Corsemaul Drive and discovering one of the sheep lying on the ground.
It was still alive, but is understood to have been so badly wounded that local farmers believe it will not survive.
A local vet was due to visit the community yesterday afternoon to assess treatment options, with the possibility the creature, which has lambed and was expecting twins, might have to be put down.
Emma's mother, Miranda, spoke about the incident, which she said was the second time in a year her daughter's flock had been targeted.
She said: "It's just devastating. Emma has got eight sheep and they are all lambing.
"We went there on Sunday morning and I took her round straight after school on Monday and there was one of them lying down.
"We actually thought it had died. Emma went to look at it and found it was actually alive and breathing.
"She was able to get it back up onto its feet and thought it just had a cut on its leg, but when she got it up, you could tell the whole thing had been bitten.
"Some people have suggested it may have been a badger rather than a dog but if a badger had got hold of it, it would usually just keep going."
The Dufftown animal lovers have now appealed for dog walkers to take more caution.
Mrs Murdoch said: "We have caught dogs in that field a few times.
"We are not actual farmers and we do not express the right to shoot the dog. We do not have gun licences and we cannot do that, but the farmer who owns the field can.
"But we are obviously dog lovers ourselves and we don't want to do that.
"We are really just asking people to keep their dogs on a lead, especially when there are animals nearby.
"We know how easy it can be for dogs to wander off, so we are just asking people to keep an eye on them."