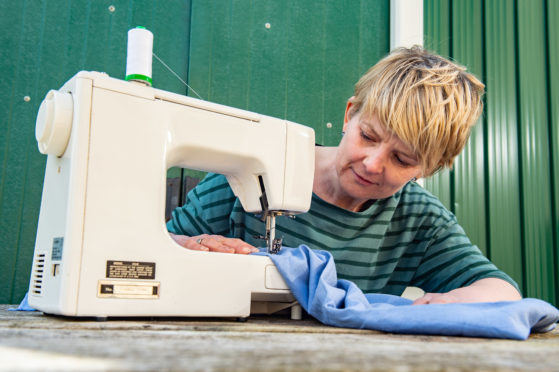 Crafters across the north and north-east have begun turning duvet covers into brightly-coloured clothes for NHS staff.
Infection rules introduced to fight the spread of coronavirus mean nurses have to swap scrubs as they move from ward to ward in hospitals.
The regular changes have left the health service with a shortage of uniforms for medics who are tending to patients.
Crafters in Shetland have already answered the call by cutting up children's duvet covers featuring pop stars and cartoon characters into clothes.
Now more than 100 people in Moray have joined the effort by taking to sewing machines during the lockdown in an effort to help the health service.
Sylvia Jamieson, from Lossiemouth, brought the idea from her native Shetland after hearing of similar struggles for uniforms at Dr Gray's Hospital in Elgin.
The council worker said designs featuring Power Rangers and rainbows were already destined to be worn on the wards instead of the traditional NHS blue.
Since forming, the group has also been contacted by GP surgeries in the region about the need for the clothes.
She said: "They need to be washed at 90 degrees, so there's only certain materials that can be used, which is why duvets have been quite popular.
"The interest has just been incredible. We're trying to keep it quite small and informal though so we can get the clothes to the NHS.
"There are people at home isolating at the moment with sewing machines who have just wanted to do something to help and feel like they are contributing to what's going on.
"I had a stay in Dr Gray's last year and the staff were utterly amazing, so it's good to say thanks."
Mrs Jamieson has also praised the support of the Forres Area Community Trust, Morayvia and the post office in Aberlour, with all contributing to the effort.
Patterns for the clothes and guidelines for materials are available by contacting the group, with drop-off points set up in Lossiemouth, Burghead, Forres, Lhanbryde, Elgin, Aberlour, Cullen and Keith.
People have been advised not to drop off submissions directly at hospitals or medical practices.
Those wishing to take part should email morayscrubs@gmail.com