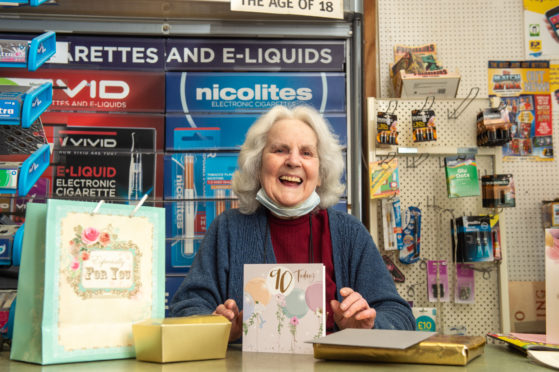 A stalwart shopkeeper in a Speyside village has celebrated her 90th birthday with a pledge not to retire just yet, having stayed open every day of lockdown.
Cathie Longmore continues to welcome customers and order stock for her Costcutter store in Rothes and will ring up 50 years in the shop in September.
Yesterday the nonagenarian was at work as usual at 7am to prepare her papers and stock for a day of trading on the High Street.
The occasion was a little different, however, as it was marked by a steady stream of well-wishers visiting the store.
They greeted her with "Happy Birthday" and offered cards, messages and flowers, while the manageress fielded telephone calls.
Mrs Longmore has been a fixture in the heart of Rothes since moving from a different shop she ran with her late husband Bill in Dufftown in 1970.
They had been attracted to the village  by the prospect of having a garden for their three children.
Although not a regular face behind the till these days, partly due to being unable to reach the top cigarette shelf now, her dedication to the village also comes with a royal seal of approval.
Mrs Longmore was awarded a British Empire Medal in 2013 for services to the community and local economy.
She said: "What started me long ago was when we were little we used to play shops.
"There was a big barn out the back and me and a girl next door liked playing shops there. I think that's what got me going."
Little has changed for Mrs Longmore, who is originally from Keith, during the uncertain times of the coronavirus pandemic.
She has continued to get up every morning to prepare the shop, although allowing herself an extra hour of rest during lockdown, while guiding her shop assistants, team of four paper boys and separate Sunday crew.
However, the global crisis has prompted her to branch out by launching a new home delivery service to ensure regular customers who are shielding are continuing to receive supplies.
She said: "I'm just trying to do my little bit for the community, just making sure people have what they need.
"There's a few of the ladies that regularly come in who haven't been able to, so we've just been making sure they're alright.
"The biggest problem with this virus has been getting stock in.
"I just got cereal in for the first time this week and haven't been able to get corned beef in ages. It's been hard making sure we have what people want."
Today the shop is a convenience store providing Rothes residents with easy access to daily supplies.
When Mrs Longmore first took over the store, however, it also included toys and more luxury items before shopping trends changed.
Modern technology has also moved on, and while the long-serving manageress continues to keep a watchful eye over stock orders and takings in the till, she receives support from her daughter Catherine.
She said: "Computers are the one thing I've never been able to get the hang of. I've never been able to figure them out."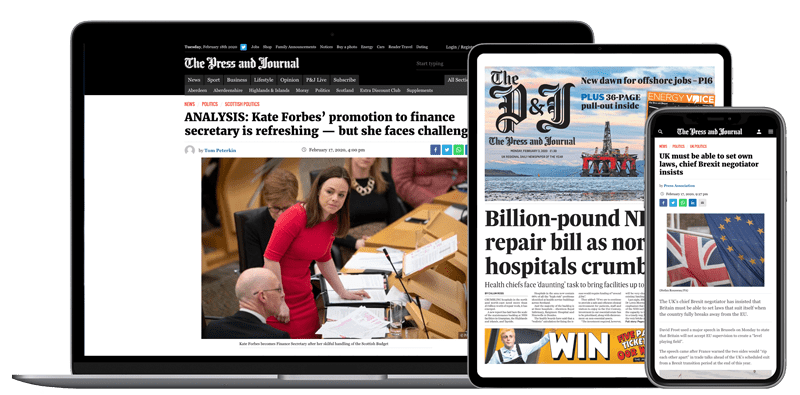 Help support quality local journalism … become a digital subscriber to The Press and Journal
For as little as £5.99 a month you can access all of our content, including Premium articles.
Subscribe