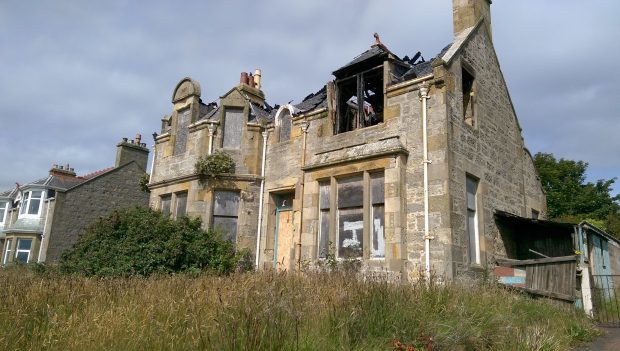 A three-year fight to wrestle control of an eyesore property in Moray from an absentee owner has come at a cost of nearly £6,000 to the public purse.
The Brae Lossie house overlooking the East Beach in Lossiemouth has been reduced to a shell during the last 25 years since its final residents died in the 1990s.
The grand Prospect Terrace property was passed to the couple's son, who is understood to live in the US, but he has shown little interest in the building.
At one point it was feared he had died too after he broke off contact with the council before reengaging through a solicitor in recent years.
Compulsory purchase order of derelict Moray home gets government approval
Moray Council commissioned a compulsory purchase process in November 2017 due to neighbour concerns following a series of fires and vandalism.
Now it can be revealed the process has cost the authority £5,972 in legal fees and advertising costs.
The Scottish Government has already approved the compulsory purchase with the site expected to go on the market in the coming months.
Heldon and Laich councillor John Cowe explained that the money spent by the authority would be recouped when the house is eventually sold.
Mr Cowe said: "There has been excellent work done by the legal department to keep the costs as low as they are. It has been very difficult to communicate with the owner.
"It won't cost the council a penny in the end because the fees will be deducted from the eventual sale price.
"It would have been up for sale already but it has been delayed by coronavirus because there has understandably been other priorities."
A Moray Council spokesman said: "These costs will be recovered from the sale price when the property is sold."
The building, which had been decaying for years, was devastated by a massive fire in 2015.