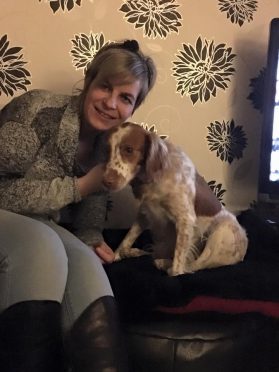 A Moray mum is growing increasingly desperate to track down a beloved family pet that slipped its lead and ran away more than a week ago.
Janine Cabrera's 11-year-old daughter was walking Breton spaniel Molly last Sunday when the dog scarpered and subsequently became lost.
Ms Cabrera launched a massive online appeal for information on Molly's whereabouts, rallying hundreds of people to keep on the lookout for the two-year-old pet.
At first, sightings came thick and fast with Molly reportedly spotted at several rural spots, including Dallas.
But Ms Cabrera has not received any updates for nearly a week, and says she fears for the animal's health.
The worried mum has now offered a £100 reward for anyone who can provide information that helps reunite her and her children with Molly, who they adopted from Spain as a puppy.
She said: "Molly has to take special tablets for her joints, and with the cold weather just now I really do worry for her.
"The children have been absolutely devastated by this, and so have I.
"We just want her home."
On the afternoon of Sunday, November 29, Molly bounded off while being walked at Cooper Park in Elgin.
Molly, who is in heat at the moment, was wearing a red harness when she vanished and her owners hope that could help identify her.
Ms Cabrera said it was "very out of character" for the usually timid, quiet dog to take off.
Last Wednesday Ms Cabrera placed items of her own clothing and a serving of chicken flavoured tripe by Miltonduff Hall after Molly was spotted there, in an effort to lure the dog out.
But at that time Molly was reportedly observed running in the direction of Elgin, and she has not been seen since.
Ms Cabrera said: "We wonder if maybe somebody has taken her in, and decided to give her a home.
"But anything could have happened to her, she may have fallen down a hole.
"It's really worrying."
More than 700 people have backed a social media campaign designed to help find Molly, with many sharing updates on where they saw her and offering tips on how to track her down.
Anyone with information about the spaniel's whereabouts should call Ms Cabrera on 07539 102924.