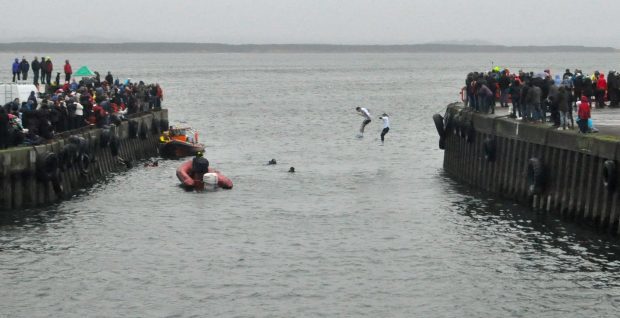 A traditional Moray event has been saved after more than 100 people braved the winter weather on Boxing Day to help a small community raise thousands of pounds for good causes.
There had been fears in Burghead that the annual Boxing Day swim event, which has raised over £250,000 for various charities, would come to an end this year after lack of "fresh blood" to take on its running.
But after 113 people jumped into the harbour on Saturday, raising £11,000 for the local lifeboat and Macmillan Cancer, the event will continue on past its 30th anniversary.
Last night, the organising committee's secretary, Helen McLeod, said local man Jamie Campbell had stepped into the role of president at the swim's conclusion.
She added: "It was very good – it was raining, which is the first time it has rained since we have been running the event – and 113 swimmers still took part. We raised over £11,000 so far and there's more still to come in.
"It was quite nostalgic – it was our president's and quite a few of our bucket ladies' last swim. But Jamie Campbell, a local lad, has come in to take it on.
"It's a traditional event and very much part of the community. The swim is good for people round about here as well, because it's something to go to and we've raised so much money for charity.
"We have raised over £250,000 in our 30 years and the money from this year will be donated equally between the local lifeboat and the Macmillan nurses."
Calum McDougall stood down as the event's chairman and treasurer and had the honour of being the first to jump into the freezing water.
He was joined by his two sons.
The last swimmer was Russel McLeod, accompanied by his son Cameron, who has only missed two swims out of the 30 held at the harbour.
In previous years, the swim has raised money for Help for Heroes, CrossReach and local amenities.