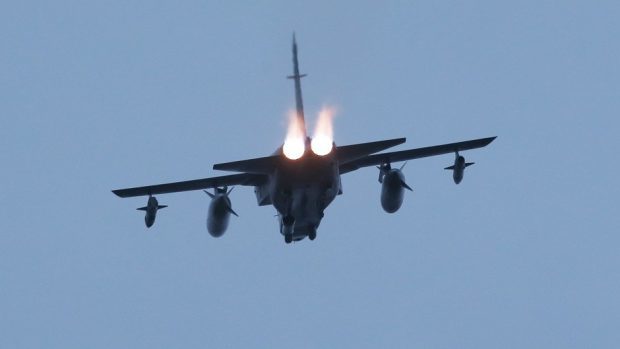 Jets from RAF Lossiemouth have played a key role in strikes over Syria and Iraq during the Christmas period, the Ministry of Defence has revealed.
Six Eurofighter Typhoon aircraft deployed from the Moray base to take part in action against the Islamic State terrorist group have been integral to several fruitful missions.
On Sunday, pilots from the airfield soared into action above northern Iraq, with Typhoons using precision guided Paveway bombs in strikes on an armoured vehicle and mortar teams in the Tal Afar and Kisik regions.
That same day, a second Typhoon patrol over the northern region assisted Kurdish peshmerga in close combat with IS troops, striking two terrorist cells with Paveway IV bombs.
The success of those operations and others like them prompted Iraqi prime minister, Haider al-Abadi, to declare that IS will be "terminated" in 2016.
An RAF spokesman said operations in the middle-east had continued at "a high intensity" over the past week.
And the body said that by taking out large groups of terrorists engaged in combat against the Iraqi government, UK air forces had aided Iraq's push to reclaim the city of Ramadi from IS control.
On Christmas Eve, Typhoon top guns from the Moray airfield saw action near Mosul, in the north of Iraq, where they bombed an IS building.
Last Wednesday another Typhoon patrol near Mosul carried out six successful attacks on terrorist strongholds, using eight Paveway IV bombs.
Four buildings belonging to the terror group were annihilated in the strikes, including ammunitions stores, several heavy machine-guns, and a sniper position.
RAF Tornado jets deployed from airbases in England have also played an active role in the recent onslaught against IS targets.
Six typhoon planes departed from the Moray base on the morning of Thursday, December 3, after a vote at Westminster the previous night sanctioned air strikes against IS.
The pilots, who are now stationed at the RAF Akrotiri airbase in Cyprus, are being supported by more than 100 ground crew personnel from RAF Lossiemouth.
Within days of arriving at the Cypriot base, the Typhoons played an important part in bombing raids on oilfields crucial to IS's finances.